The Original Pocono Pub, Bartonsville, PA – Owner, Rick Defino awards OPERATION CHILLOUT-PA a generous donation to support the 2017-18 winter outreach campaign for homeless veterans.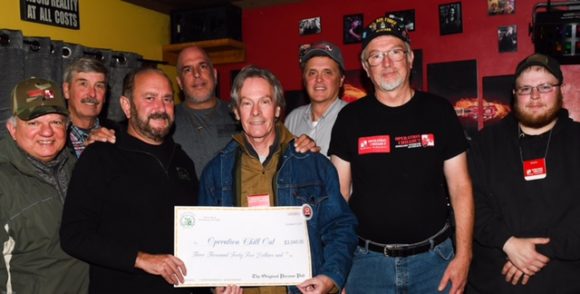 L-R
Maj Tony DeStefano, Rick Defino, Deacon Ray Chimileski, Al Compoly, Paul Compoly
Second row
Ken Steffan, Steven from the Original Pocono Pub, Jim Blair
Homeless to housed to homeless again: Monroe couple reflects on journey
Ray and Barbara Perkowski both grew up with a desire to help those less fortunate, not knowing a time would come when they themselves would need help.
The Perkowskis met when both had lost their homes and were sleeping in their pickup trucks in the East Stroudsburg Walmart parking lot. The couple got married in 2013 and began leasing a Jackson Township home, but trouble with their landlord has now led to them being evicted and homeless once again.
"This is not going to stop us from doing what we've always done, which is helping other homeless people," Barbara Perkowski said, sharing the van she, her husband and their dog are once again sleeping in at night.
Read more: http://www.poconorecord.com/news/20160828/homeless-to-housed-to-homeless-again-monroe-couple-reflects-on-journey