Winter Fest: Bringing hope to homeless vets
Nov 17, 12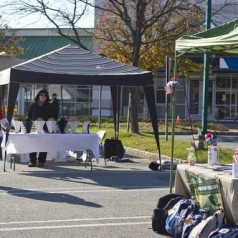 Written by Peggy Wright
HANOVER — Sandy Mitchell knows that many people lost homes and property during superstorm Sandy but in her mind, the losses are temporary compared to the homelessness American veterans endure every day.
With that perspective, her nonprofit organization Spirit of the Arts, which supports arts and humanities, served as production company for Winter Fest for American Vets on Saturday in the parking lot of Pine Plaza. The festival featured live bands, food vendors and artists selling jewelry, clothing, candles, and other wares, but the centerpiece was the booth of Operation Chillout, a Long Valley-based volunteer coalition that assists homeless people, particularly veterans, and helps guide them on paths to stability.
Operation Chillout's booth was a collection point for donations of backpacks and duffel bags stuffed with new thermal clothing, survival gear and toiletries. Coalition co-founder and Executive Director Ray Chimileski said the group expects to distribute this year between 700 and 1,000 backpacks in New Jersey. Since 2000, it has provided more than $800,000 worth of new clothing, tents and toiletries to homeless veterans, he said.
While the issue of homelessness is complex, Chimileski and other coalition members said veterans of all ages are struggling with post-traumatic stress disorder from their military service and have enormous difficulty with maintaining relationships and a stable environment.
The coalition distributes essential items in 13 counties in New Jersey, including bottled water, caps and new T-shirts in the summertime. Generosity is catching on, Chimileski said, with Sussex County Community College's Student Veterans' Association making a commitment to stuff 100 backpacks and a Boy Scout troop from Blairstown collecting tents and sleeping bags for distribution.
With an estimated 7,500 homeless veterans in New Jersey, coalition veterans' coordinator Tony DeStefano said the coalition assists vets with receiving financial aid, housing and medical care.
"When we give out backpacks and water, that's just the introduction. It opens the door to a relationship of assistance," DeStefano said. "The biggest problem is the disconnect between the need and the availability of housing."
Mitchell, the Spirit of the Arts producer, brought along 10 donated and stuffed backpacks, and jewelry vendor Rosemary Foley donated toothbrushes and travel-sized soaps, shampoos and toothpaste.
"Some people are hurting right now because they lost homes in the hurricane but our vets are on the street all the time. I feel the least we can do is give them some comfort. We owe them," Mitchell said.
Operation Chillout expects to distribute the backpacks between mid-December and the end of January at about 35 locations in New Jersey, from a drop-in center at the First Baptist Church in Morristown to a "tent city" of homeless people in Lakewood. The organization can be reached at www.operationchillout.org.
Read full story: http://www.dailyrecord.com/apps/pbcs.dll/article?AID=2012311170026&gcheck=1&nclick_check=1