Operation Chillout Collaborates with SCCC
Oct 15, 12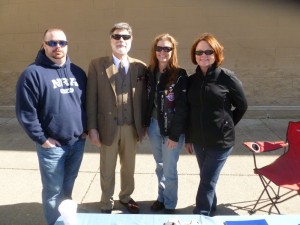 Veterans Day comes again on November 11, as a reminder to remember the men and women who have served our country — those willing to die to protect the freedoms of America.
But an alarmingly high number of veterans live without basic comforts that many take for granted. Operation Chillout is there to remind us all to do our part for them.
"1 out of 4 homeless men have served our country in the military," said SCCC English Professor Frank Ancona, a volunteer for Operation Chillout.
This statistic is printed on the flyers handed out by volunteers working with Operation Chillout — a grassroots organization devoted to raising funds, clothing and other donations to assist homeless veterans in northern New Jersey at the Walmart in Newton and the WalMart in Franklin.
They also work with a number of other groups, such as the Veterans Task Force. Now they are also working with Sussex County Community College.
SCCC students can help. During October and November, a number of events are planned. To participate in "Stuff the Backpack," students are encouraged to donate new clothing and other items for homeless heroes.
Some of the items requested are knit hats, water-proof gloves, scarves, XL flannel shirts and hooded sweatshirts, socks, and toiletries (soap, toothpaste, deodorant, etc.). Checks can also be made out to SCCC SGA, and all donations can be dropped off by the Student Activities Office in D-Building.
Read full story: http://sussex.edu/collegehillnews/2012/10/15/operation-chillout-collaborates-with-sccc/