Housing for homeless veterans is completed in Chester
Mar 07, 14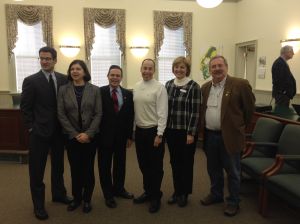 CHESTER TWP. – Four formerly homeless veterans may soon have a home.
The housing will be made available through the newest Habitat for Humanity home on Pleasant Hill Road. The construction was completed on Wednesday Feb. 26.
The home was renovated in a collaborative project of Habitat for Humanity and Hope For Veterans, a program of Community Hope. Community Hope is the largest nonprofit in New Jersey serving homeless veterans.
One veteran has been confirmed who will live in the new home while other veterans are being sought as potential tenants.
Joint Effort
"Putting our strengths together to  keep construction costs down, Morris Habitat and Community Hope rehabbed a home for four homeless vets," Blair Schleicher Bravo, executive director of Morris County Habitat for Humanity, said at a news conference at the municipal building.
"Through this win-win project, the two organizations were able to mobilize resources; funding and volunteers and turn a neighborhood eyesore back into a home,"  Schleicher said.
Community Hope CEO J. Michael Armstrong said Schleicher was being "modest."
He said she was pivotal in a project that was a coordinated effort involving Habitat for Humanity volunteers, Chester Township representatives and residents.
"Even the neighbor to the property, Irene  Reneer, was there from day one," Armstron said. "It's a great example of what can happen when people work together– municipalities, charities, and banks and I thank everyone involved."
The house was a foreclosure by Boiling Springs Bank of Rutherford, according to Tom Barnett, a vice president and asset recovery manager at Boiling Springs.
"Without details, it was unfortunate that the bank could not do the right thing and, ultimately, the bank acquired the title," Barnett said. "We were able to resell it at a fair price, however, and we couldn't find a better buyer."
Cogger took the opportunity to talk about the housing issue at large and his concerns that the state may abolish the N.J. Council on Affordable Housing (COAH)..
"We are not opposed to affordable housing here, but rather the idiocies of various administrations," Cogger said. "Housing that we can help fund, like this, is a message to carry to legislators. Abolishing COAH does not solve anything. It rids us of a bureaucracy but forces us into corners."
The statement was in response to the failure by the Christie administration earlier in the day to provide the new guidelines and quotas for  COAH.. The state Supreme Court issued the Feb. 26 deadline for the new rules in September 2013, though on the due date the Governor's office instead applied for an extension to May 1.
According to published reports, COAH has not met since last May, despite courts ruling that Christie cannot dismantle the council as he suggested.
See orginal article here: http://newjerseyhills.com/observer-tribune/news/housing-for-homeless-veterans-is-completed-in-chester/article_c9bc28da-a564-11e3-a429-0019bb2963f4.html