Operation Chillout Nominated as "New Jersey Hero"
You can help Operation Chillout by voting here:
http://newjerseyheroes.org/index/poll/
Read more about this nomination:
Operation Chillout nominated for 'New Jersey Heroes' award
Long Valley veterans aid group nominated as NJ Hero
Mary Pat Christie Announces Candidates for May New Jersey Heroes Online Poll
ST JUDE PARISH, BUDD LAKE BACKPACK COLLECTIONS
Parishioners and friend of St Jude Church in Budd Lake collected a case-full of new clothing items for the winter homeless outreach.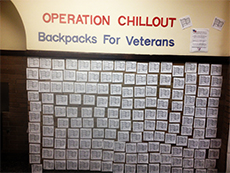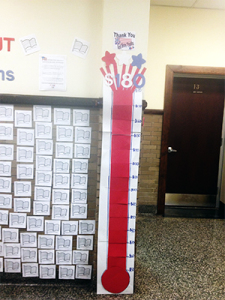 The student council, at Riverdale Public School, with the collaboration of the School Climate Committee, Student Council led a fundraiser for the winter homeless outreach campaign. When students donated in a dollar an American Flag was taped up on the wall to represent their donation. The final tally totaling $180 dollars was used to purchase the items for backpacks for homeless veterans this winter.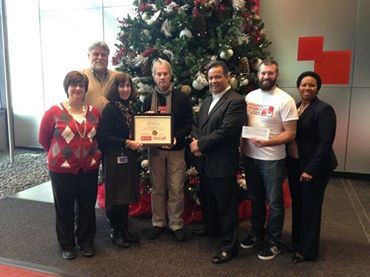 BASF HQ managers and Veterans Employee Team members receive a Guardian Angel Award from Deacon Ray (OCO Executive Director) and (Marine Veteran) Tom Wicklow, OCO Logistics Coordinator. Company employees filled 70 backpacks with new warm clothing and management presented a generous donation supporting the 2014-15 Winter Homeless Outreach campaign.
The BASF Corporation under the leadership of their Veterans Employee Team (VETs) took the lead to collect 75+ filled backpacks for the 2014 – 2015 annual winter homeless outreach campaign. The pictures from today have been posted to the Operation Chillout Facebook page:
https://www.facebook.com/pages/OPERATION-CHILLOUT/214961841904893
2014-­15 Homeless Winter Outreach Partners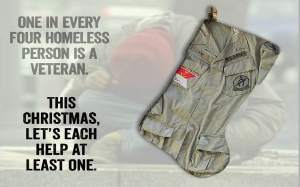 We thankfully acknowledge our many generous supporters and partners for the 2014-15 winter homeless outreach campaign.
BASF Corporation -­ Veteran Employees Team, Florham Park
Boy Scout Troop 436, Washington Township
Chester Baroque Orchestra, Chester
Christian Medical & Dental Association at Robert Wood Johnson Hospital
Church of the Assumption of the Blessed Virgin Mary, Morristown
Elks Lodge #434, Bayonne
Fanwood – Scotch Plains Rotary, Fanwood
Glaxo­-Smith-­Kline Pharmaceuticals, Parsippany
Hillsborough Rotary, Hillsborough
Knights of Columbus, Long Valley and Plainfield
Lions & Lioness Clubs, Chester
Montgomery / Rocky Hill Rotary, Rocky Hill
Morris County Arts Association -­ HIVE, Chester
North Hunterdon Rotary, Clinton
Original Pocono Pub, Bartonsville, PA
Our Lady of the Assumption Church, Morristown
Piscataway Rotary, Piscataway
Riverdale Public School Student Council
Roselle Park Emergency Squad, Roselle Park
Secular Franciscans, Newton
St. Jude Parish, Budd Lake
St. Luke Parish, Long Valley
St. Virgil Parish, Morris Plains
Tramontin Harley Davidson Dealership, Blairstown
United Methodist Church, Reeders, PA
Veterans Chamber of Commerce – NJ, Roselle Park
VFW Post 282, Hackettstown
Zion Lutheran Church, Long Valley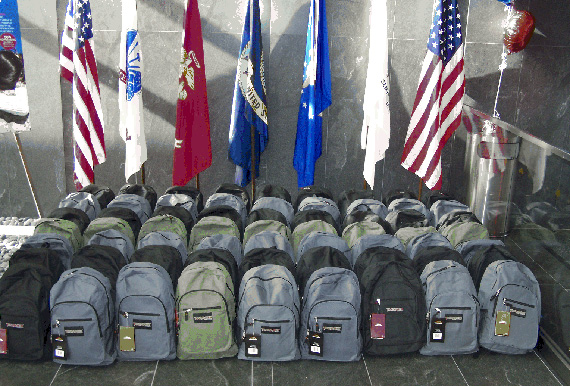 BASF Employee Veterans Group Partners for Winter Homeless Veterans Outreach
The BASF Corporation in Florham Park, NJ is committed to ending homelessness among our military veterans. To support this goal they are in the process of collecting supplies to fill 100 backpacks for the 2014-2015 Winter Homeless Outreach Campaign. The Employee Veterans Employee Team (VET) supports our military veterans in many ways. The group is under the leadership of Pablo Lizarazo (VETs Group Leader), Lenora Kline (VETs Logistics Officer) and Stephen Serna (VET's Scribe). Pablo said, "this is a priority project for us and our team is fully energized to make it a success."
UNITED METHODIST CHURCH Reeders, PA Launches Homeless Veterans Campaign


For the second year since OPERATION CHILLOUT opened an Outpost in PA, the Youth Ministry Team of the Reeders Methodist Church collected supplies for cases of backpacks for the 2014-2015 winter homeless outreach campaign. Many thanks to theses caring and dedicated young adults.
http://www.reederschurch.org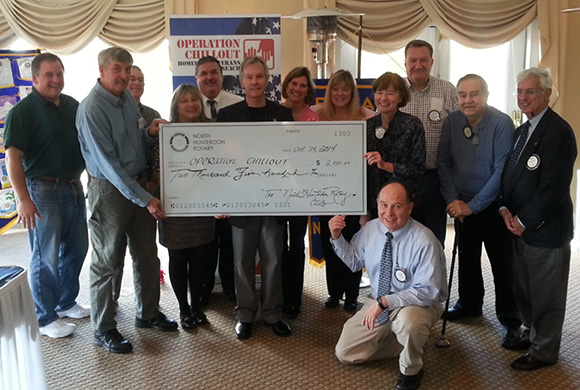 North Hunterdon Rotary Club 5652, District 7510 supports 2014-2015 Winter Homeless Outreach Backpack Campaign
The North Hunterdon Rotary executive board and officers generously presents a check to Ken Stefan and Ray Chimileski – OPERATION CHILLOUT from the annual Rotary charity triathlon event held at Spruce Run Reservation earlier this fall. The group also prepared and packed a case of 25 backpacks with new clothing and supplies for the upcoming homeless veterans outreach and deliveries.