Thanks to Lisa Mohn (L) Carmela Resnick (R) and the members of the Scotch Plains – Fanwood Rotary Club for their outstanding support of the 2017-18 OPERATION CHILLOUT winter homeless outreach campaign, bringing filled backpacks and generous donations from their caring teams.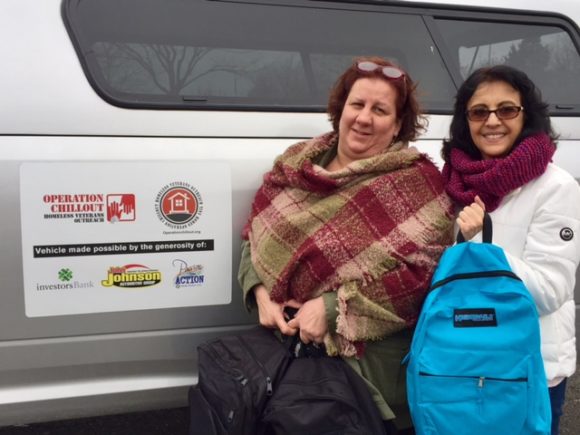 A big thanks to St Jude Church, Budd Lake, whose parishioners collected a truckload of filled backpacks for the 2017-18 winter homeless outreach campaign.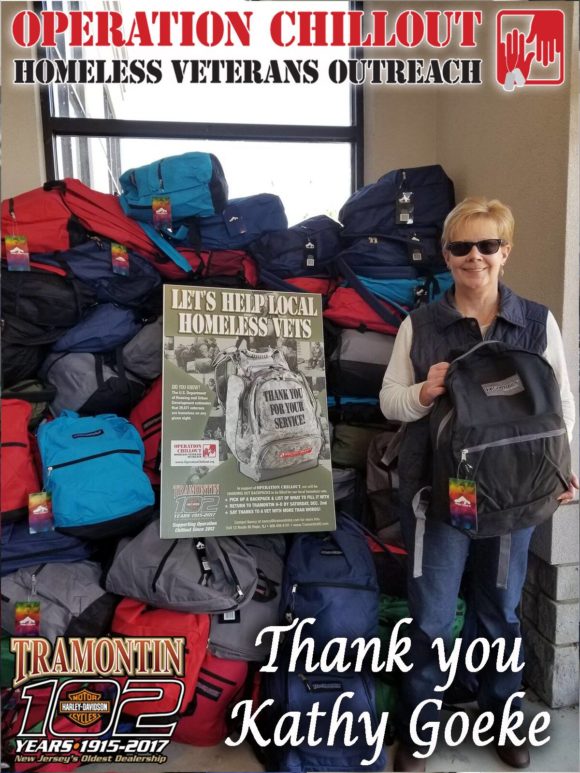 SCENES FROM 2017-18 ANNUAL WINTER HOMELESS OUTREACH CAMPAIGN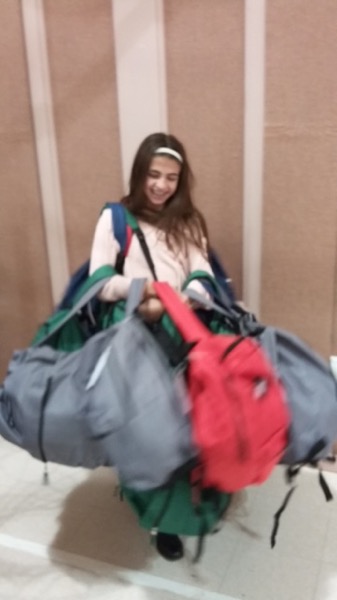 Leigha with filled backpacks.
Leigha and Ray taking inventory of winter supplies.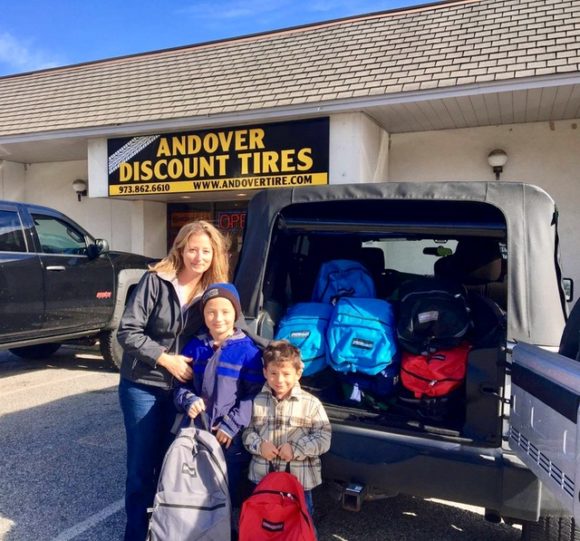 Collecting backpacks for Sussex County homeless veterans.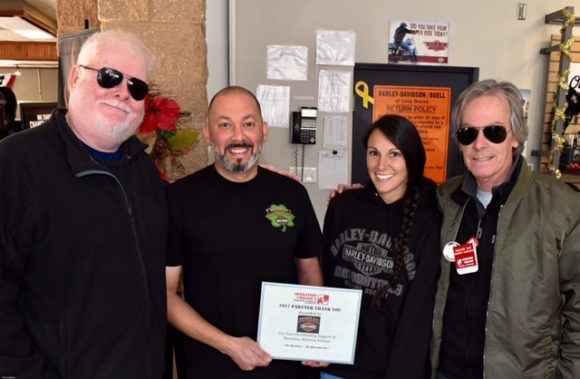 John and Ray with Shoreline Harley Davidson team collecting 125 backpacks!
Thanks for your great work on behalf of homeless NJ vets!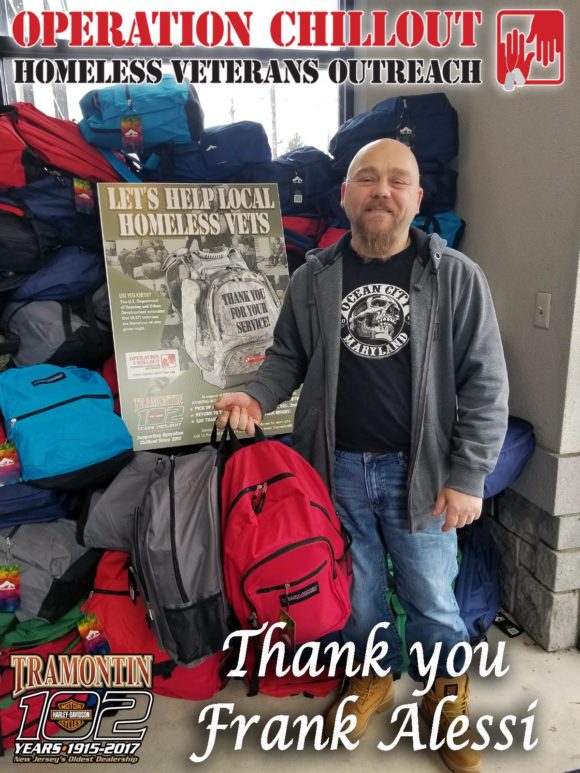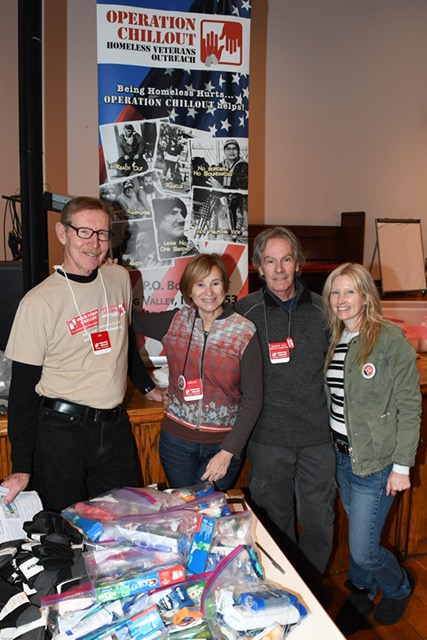 Jim, Leslie, Ray and Kris at the annual Morris County Homeless Connect at St Peters Episcopal Church with new winter clothing, toiletries and supplies.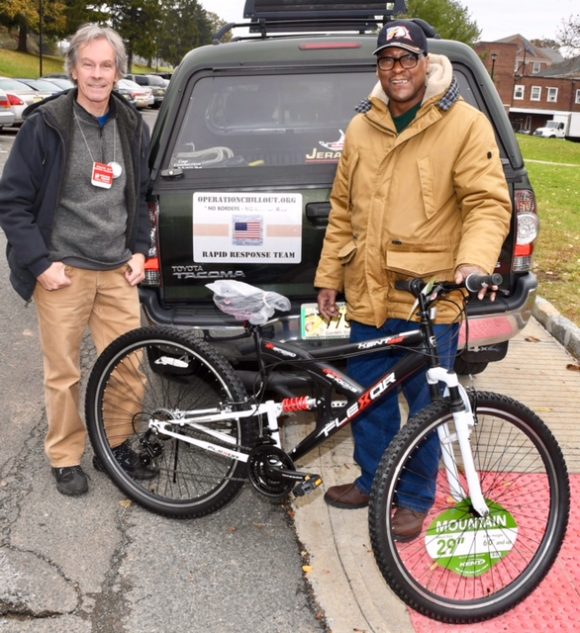 Deacon Ray and Travis with his new bike from OPERATION CHILLOUT.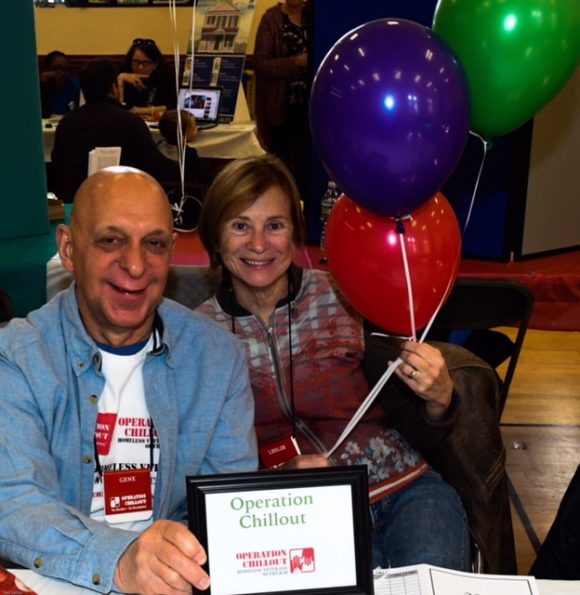 OPERATION CHILLOUT team Gene and Leslie at the Middle Valley Presbyterian Church annual giving fair.
Homeless Vets Tiny Home Arrives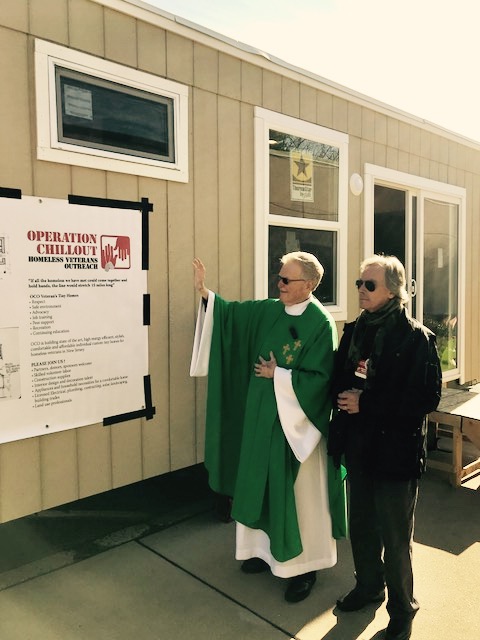 Fr Mike Drury blesses our first homeless vets tiny home over veterans day weekend at St Luke Church open house tour in Long Valley.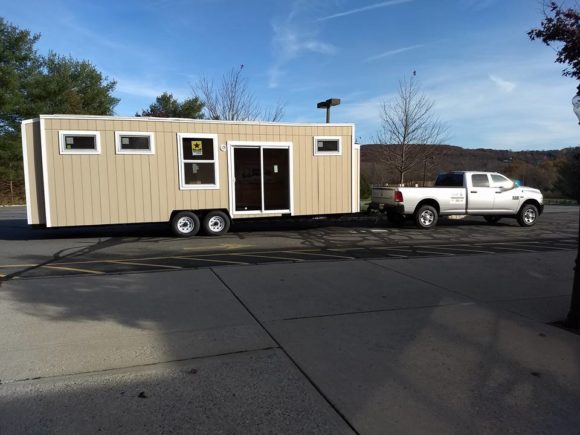 Homeless vets tiny home pulled by our new Rapid Response/Outreach truck.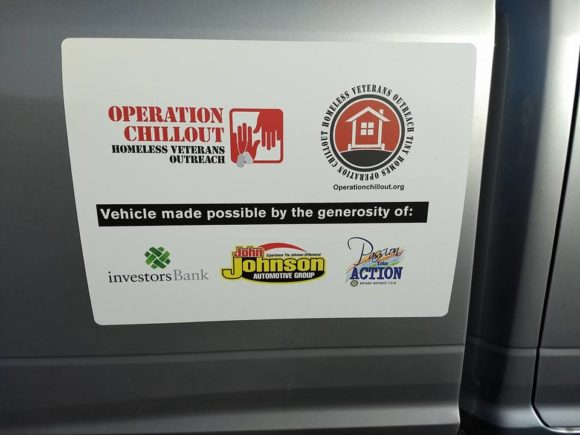 Made possible through the generosity of Investors Bank, Springfield, the Rotary Clubs of District 7510, and the John Johnson Automotive Group, Hackettstown.
Mallinkrodt Corp. team prepares emergency toiletry kits for the 2017-18 winter homeless outreach campaign.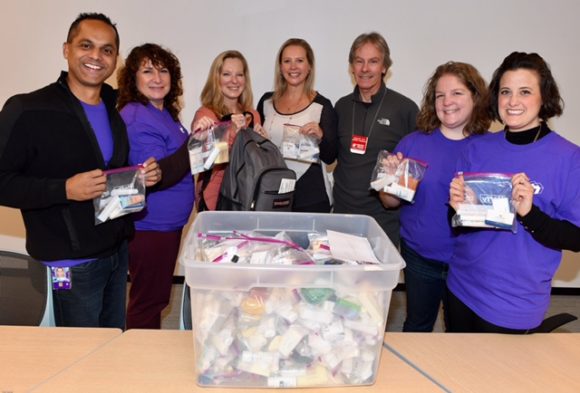 From left to right: Michael Arora, Silvana Demers, Michele Paquette, Kristin Cullen, Ray Chimileski, Sabrina Kassay, Jeannette Mammaro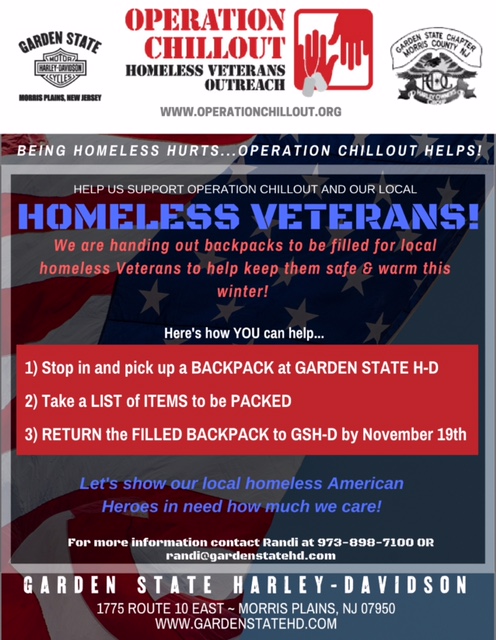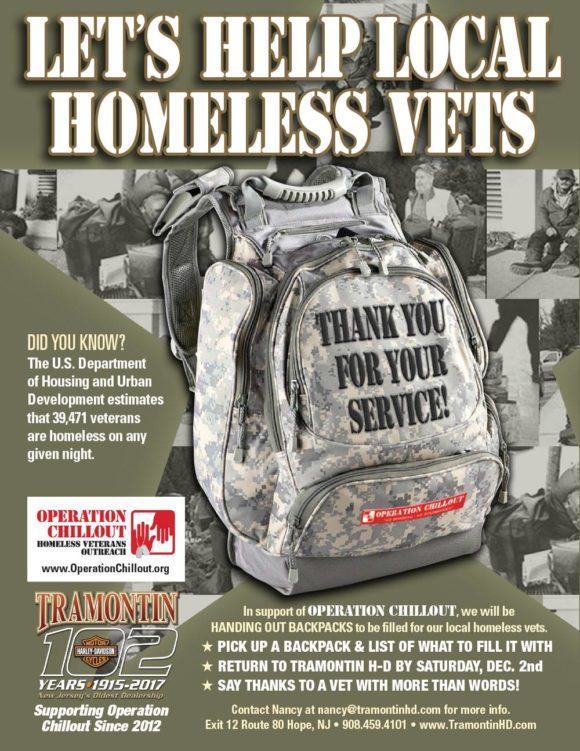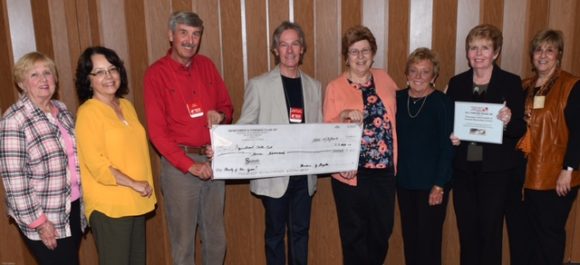 Board members of the Newcomers and Friends Club of Central Hunterdon County present a generous donation supporting OPERATION CHILLOUT's outreach to homeless NJ veterans to Ken Steffan and Ray Chimileski.
Scenes from the 2017 Morris County STAND DOWN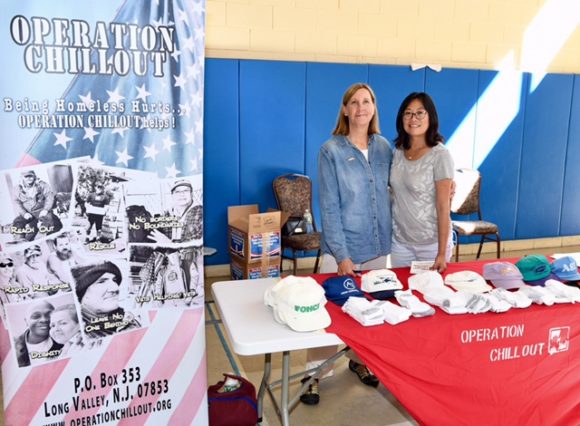 Laurie and Wei ready to serve our homeless veteran guests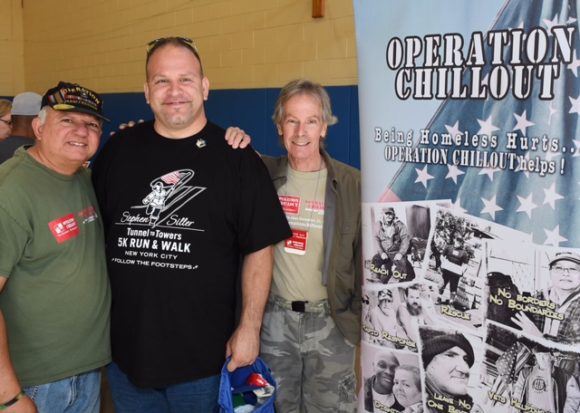 Major Tony DeStefano and Deacon Ray with Mike, a veteran temporarily housed by the OPERATION CHILLOUT Rapid Response Team

VetsSummerFest2017 volunteer thank you awards dinner at Vasa Park
Scenes from "Thai Night for homeless veterans" gala cultural extravaganza and gourmet dinner benefit for OPERATION CHILLOUT at Vasa Park, September 16.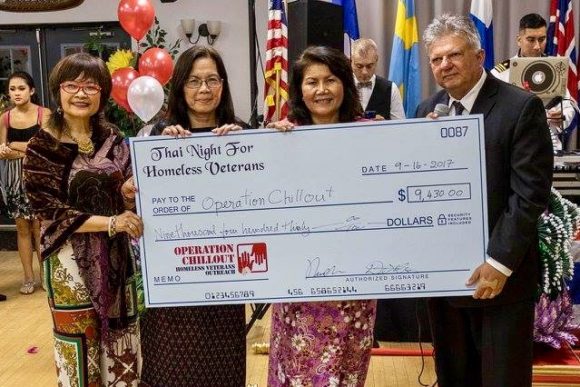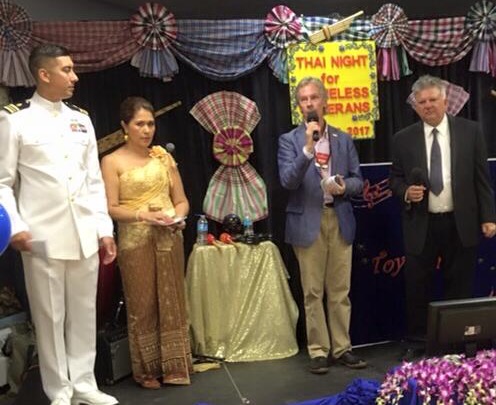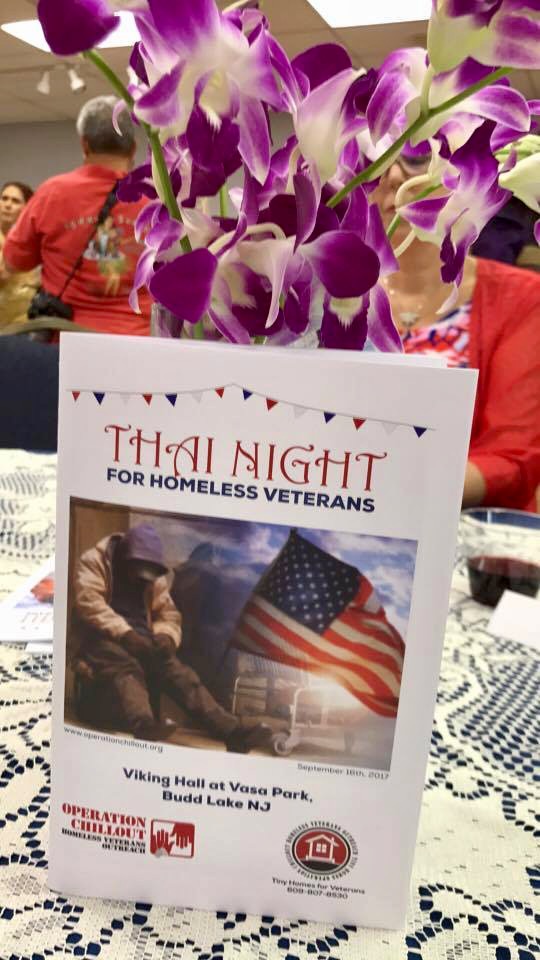 Scenes from the inaugural Fanwood-Scotch Plains Rotary Club "farm to table" fundraiser dinner for OPERATION CHILLOUT held Saturday, Sept. 16.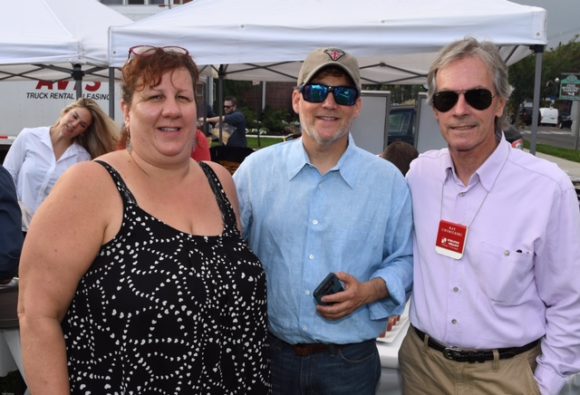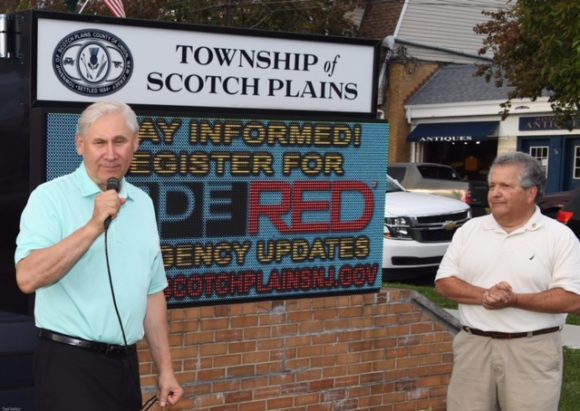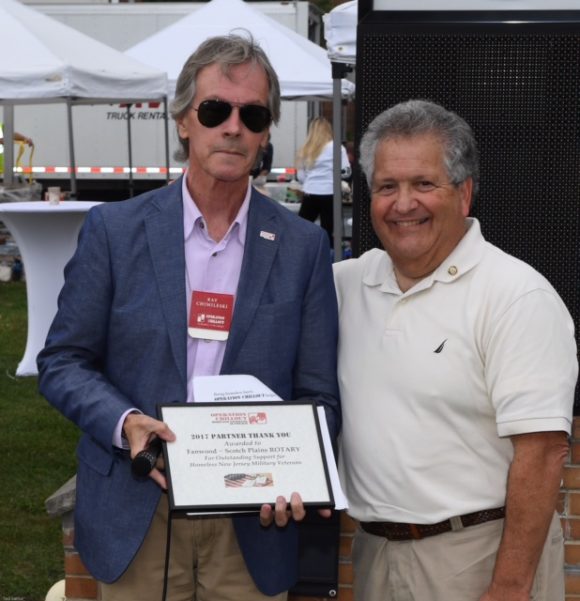 Third annual Califon antique and classic car show, September 9, benefits OPERATION CHILLOUT homeless veterans outreach.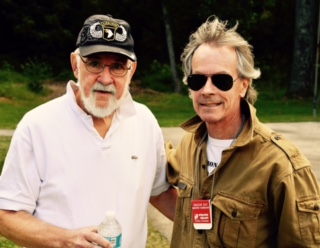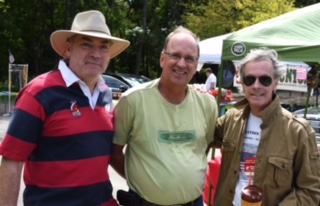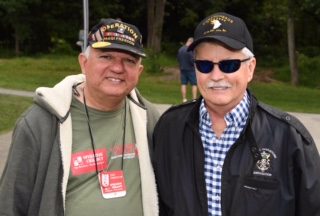 Thank-you to the energetic team of AJ Gallagher & Co that recently donated water, t-shirts, hats, sunglasses & sunscreen for the 2017 OCO Summer Homeless Outreach Water Drive.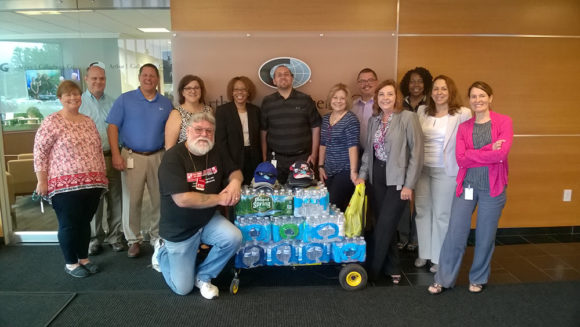 The AJG Team from left to right are: Eileen O., Ted G., Joe C., Susan B., Tawana W., Rob C., Sandy H., Elias R., Veronica C., Marya M., Linda F., and Cheryl C. Kneeling is OCO Volunteer Stephen S.
Scenes from the July 24, OCO Black Bear Golf Club, Hamburg, NJ fundraiser.
Summer homeless outreach at the Free Bridge in Phillipsburg, NJ overlooking the Delaware River.
A big thank you to Catherine and her DPR Construction Company team which collected a pickup truck full of cases of life saving bottled water and hundreds of new tees and caps for the 2017 Summer Homeless Outreach Campaign!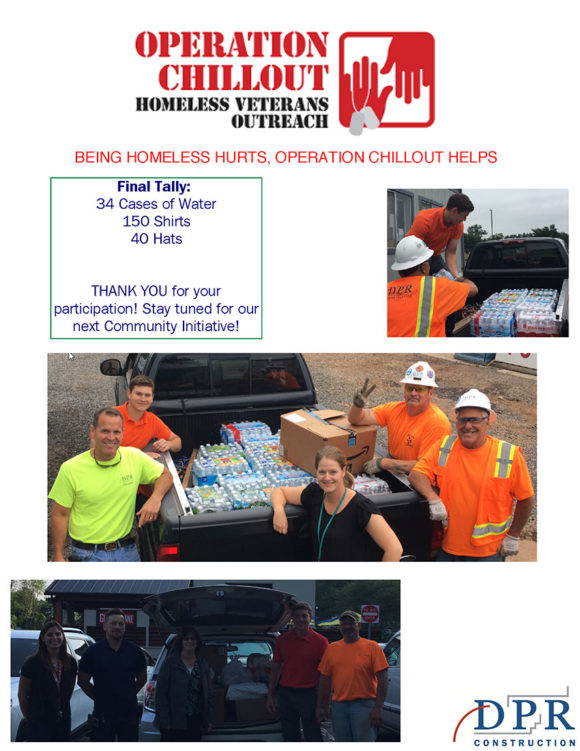 Thanks to MILFORD LIONS CLUB for their generous donation toward our 2017 Summer Homeless Outreach Campaign and for agreeing to be a hole sponsor at our July 24th Black Bear Golf and Country Club fundraiser. Pictured are Tom Wicklow, Logistics Coordinator, with leaders of the Milford Lions Club.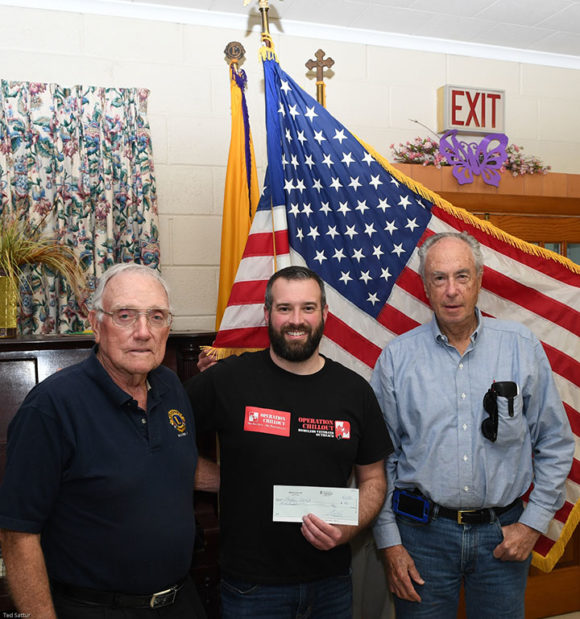 A big thank you to Full Moon Cycle and their generous riders. They collected 300 cases of water for the OCO 2017 summer homeless outreach campaign.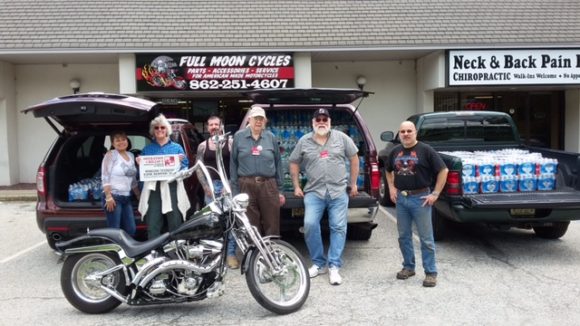 OPERATION CHILLOUT supporting Califon Boro Memorial Day parade and presentations.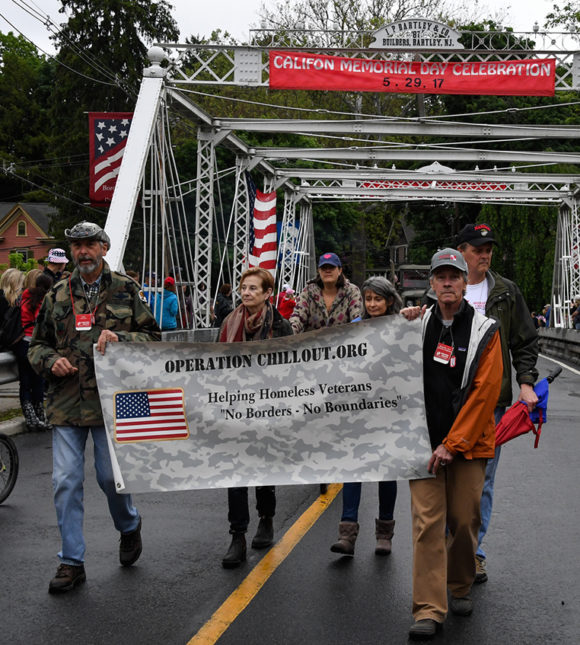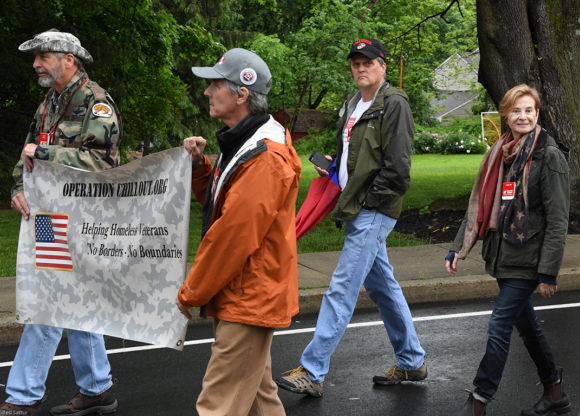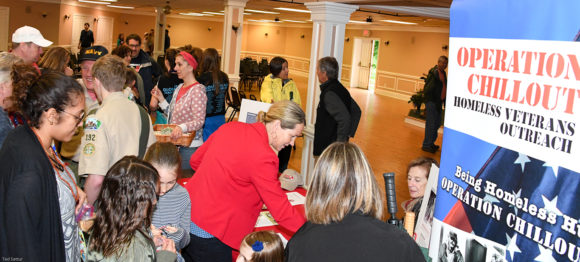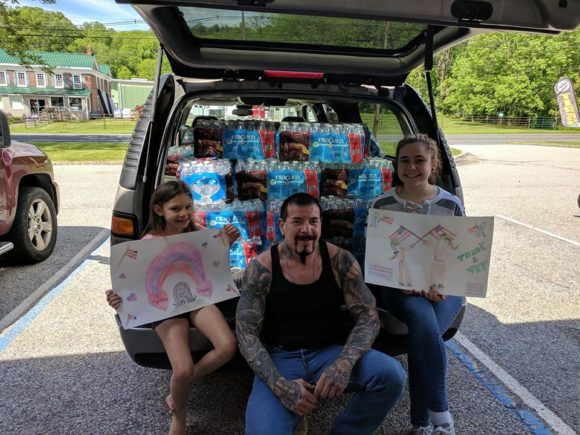 Many thanks to Full Moon Cycle – with 200 cases of bottled water collected in the first week of our 2017 summer homeless outreach campaign.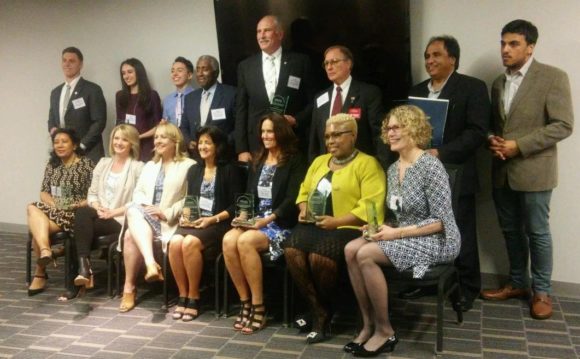 Kevin Murphy (top row third from right) was recognized for his outstanding efforts on behalf of veterans by the Union County Human Relations Commission. Kevin founded the NJ Veterans Chamber of Commerce and now is the OCO Union County Location Coordinator.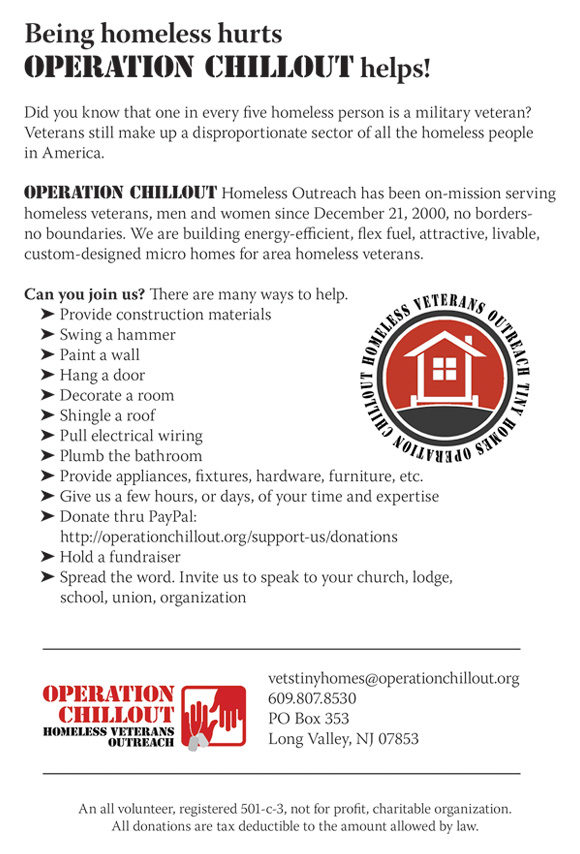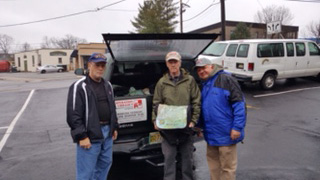 Ray and Tony at VFW Post 177, Rochelle Park, receiving homeless veterans day bags from Forest Elliott.
Thanks to our biker friends at Northwest Jersey Chapter Harley Owners Group for their support of our 2016-2017 winter homeless veterans outreach campaign.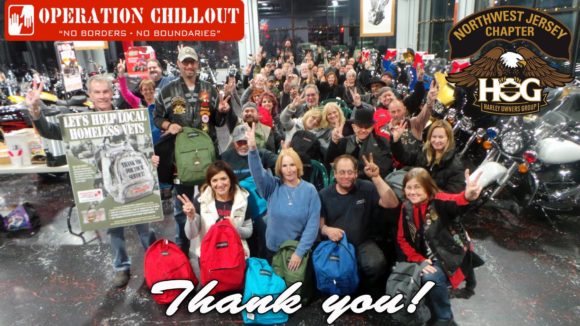 A big thank you to St Luke Church, Long Valley, Girls CYO Basketball Team for their generous fundraiser donation to OPERATION CHILLOUT.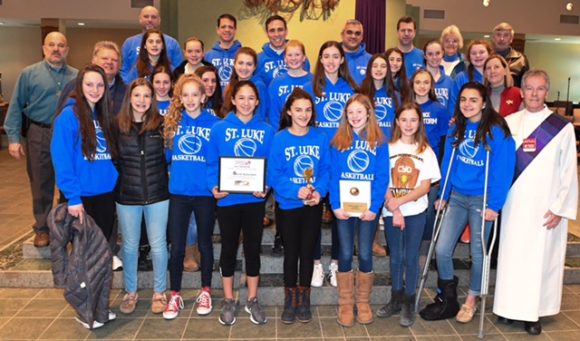 A big thanks to David's Country Inn, Hackettstown, who presented OCO team with a generous donation from their St Patrick's Day veterans benefit.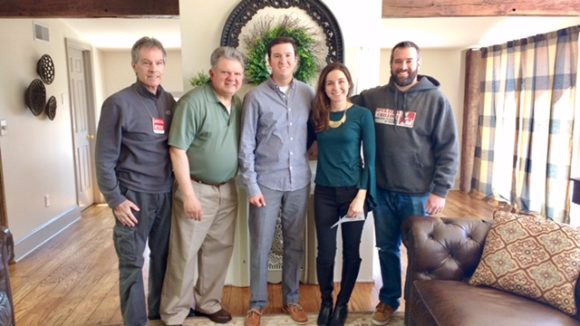 L-R
Executive Director Ray; Homeless Veterans Outreach Coordinator Tony; Chris and Jordan (from the inn); and OCO Logistics Coordinator Tom.
Scenes from our annual volunteer recognition "pot luck" event Saturday, March 11, 2017
Outreach team at Mt. Olive Baptist Church, Hackensack delivering backpacks and winter supplies to our homeless brothers and sisters.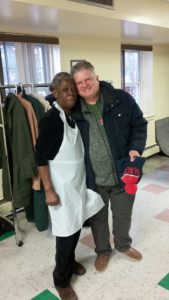 Maj. DeStefano with Chef Veronica.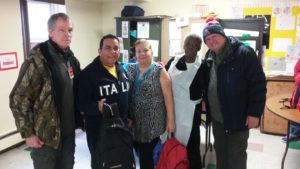 Delivery team with backpacks and supplies at monthly hot lunch.
Charity for homeless vets to be focus of Hunterdon Newcomers meeting on March 7
Our meeting for Newcomers and Friends of Central Hunterdon County will be held on Tuesday, March 7, 2017, beginning at 6:30 pm with refreshments at the Hunterdon Christian Church, 71 Summer Road, Three Bridges, NJ with meeting following at 7 pm.
Our program for the evening of March 7th will be Operation Chillout, our charity for this year. Operation Chillout is an organization that assists homeless veterans with housing, clothing, food and any other needs they have. Our veterans have put their lives on the line for every one of us and we need to support them.
The Newcomers and Friends Club is for new and longtime residents looking to make new friends and to learn more about our community
For more information, see our website @ home page: http://newcomersandfriendsclub.com
We have many day and evening activities including book club, excursions to New York City, Lunch bunch, bunco, card games, breakfast club and dinner club.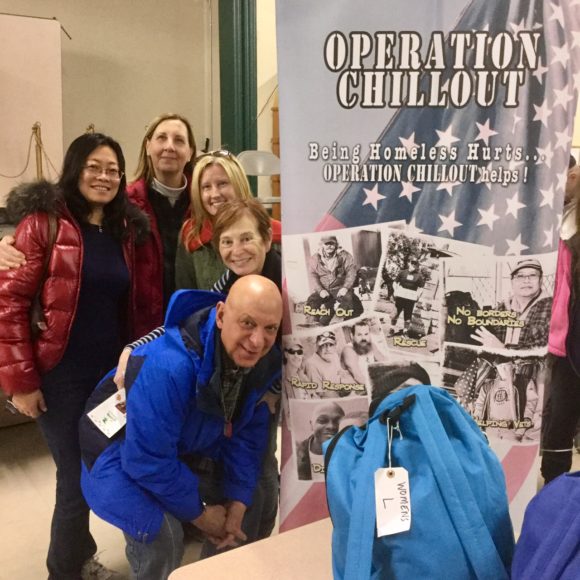 OPERATION CHILLOUT team at 2017 Warren County Point In Time Survey – Homeless Connect in Phillipsburg.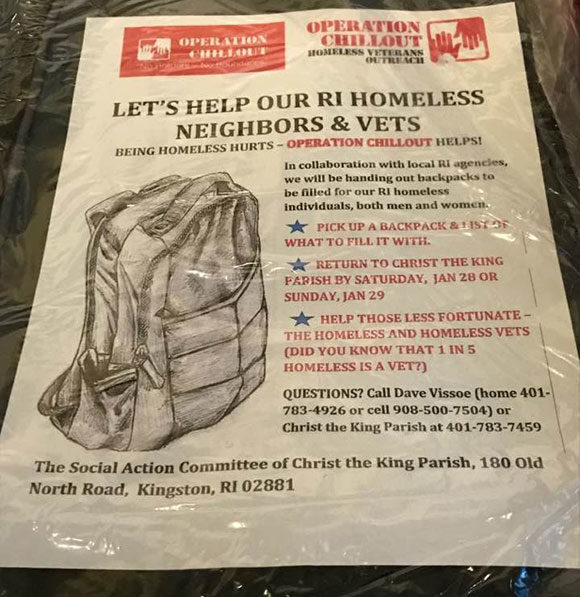 Rhode Island launches new OPERATION CHILLOUT chapter and 2017 winter homeless outreach campaign with commitment to fill and deliver 125 backpacks to homeless veterans, men and women. Dave and Bev Vissoe, (former NJ OCO volunteers) networked with Rhode Island faith communities, veterans organizations and social justice ministries to establish an on going presence in RI. Congratulations!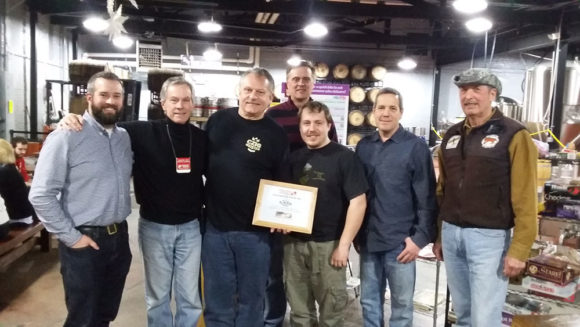 2016 Partner Award- OPERATION CHILLOUT Team thanks Czig Meister Brewery for their Veterans Day 2016 Fundraiser
L to R
Tom, Ray, Frank, Matt, Joe, Ken, Jim back row.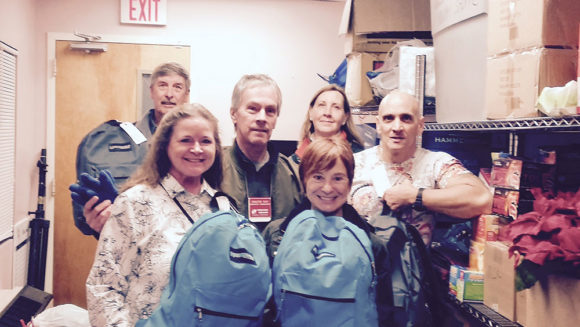 Paterson – Eva's Village and Shelter staff receive women's backpacks and winter supplies from CHILLOUT delivery team.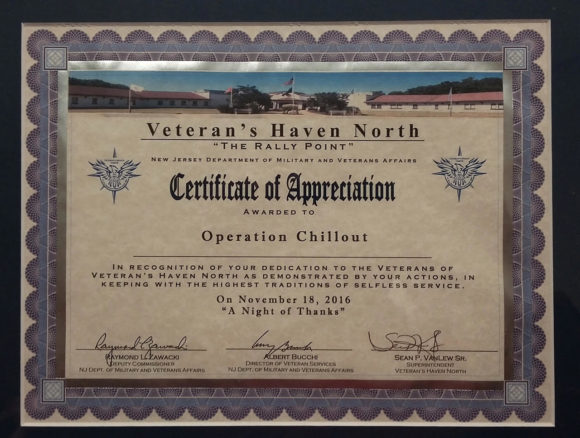 Chillout delivery team with staff at the VA Hospital in Lyons. Filled backpacks brought for all PTSD Treatment residents, the Women's Trauma Unit and Homeless Services Department.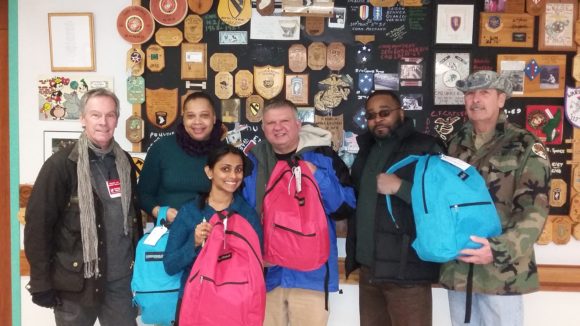 To our OPERATION CHILLOUT family, a blessed Christmas and prayers for a healthy and prosperous 2017.
Ray & Leslie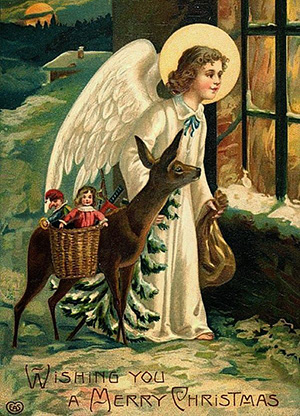 Carmela Resnick, President, Scotch Plains-Fanwood Rotary Club, with pickup truck filled with winter backpacks for homeless NJ veterans.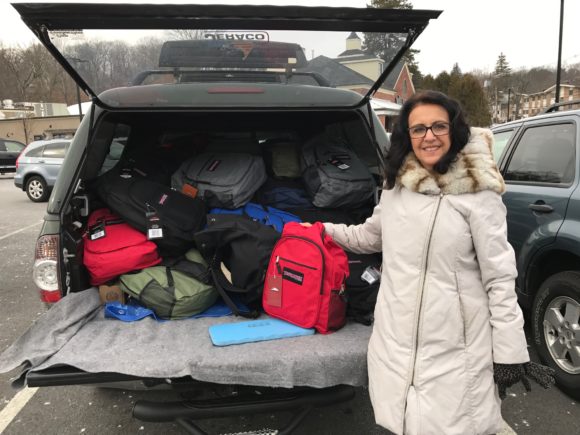 OPERATION CHILLOUT team delivers backpacks to staff and volunteers of homeless service drop-in center "Our Promise" in Morristown, December 21, 2016, on the 16th anniversary of our founding.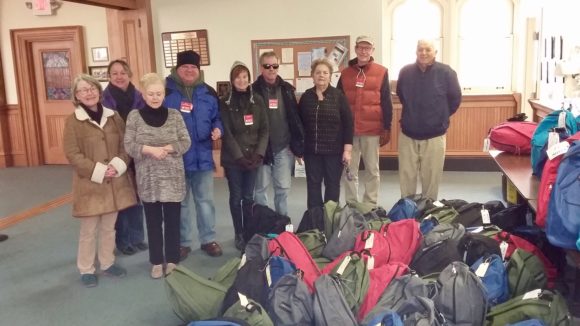 Today, December 21, 2016
Marking 16 years humbly serving homeless veterans, men and women throughout NJ and Northeast PA, "no borders-no boundaries".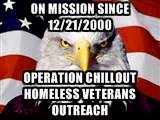 Being homeless hurts, OPERATION CHILLOUT helps.
Thank you for caring and supporting those most in need among us.
Rev. Steve Brigham, tent city residents, and OPERATION CHILLOUT outreach team in Howell, NJ with winter survival supplies.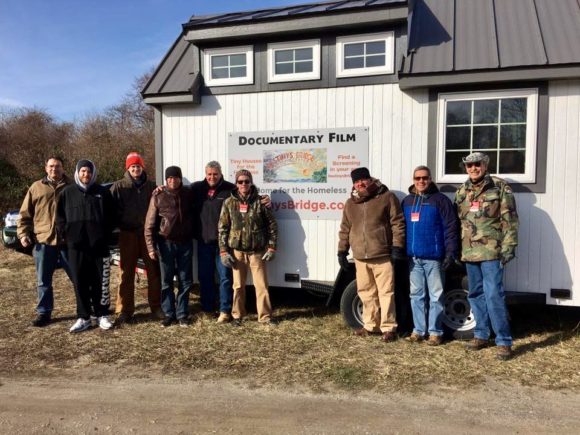 Thank you to Boloc Home for Funerals, Cresco, Pa. which donated 100 Christmas stockings filled with holiday gifts for homeless veterans for distribution by Operation Chillout – Pa.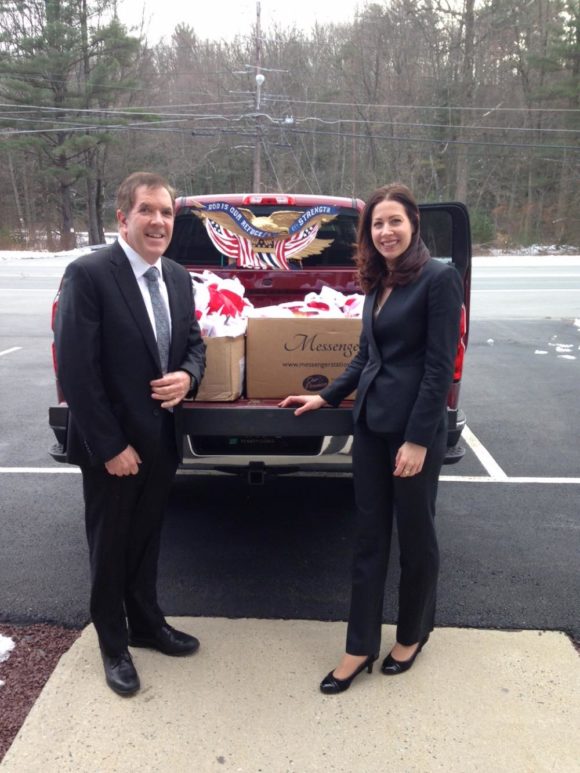 =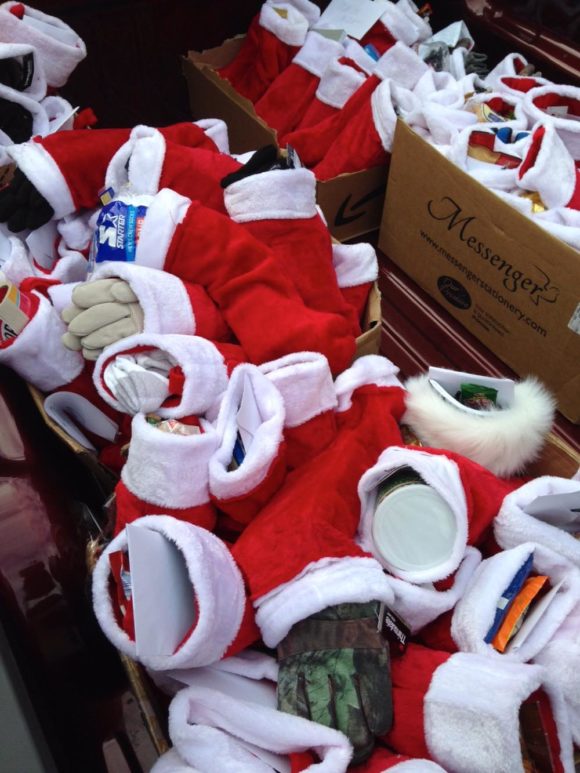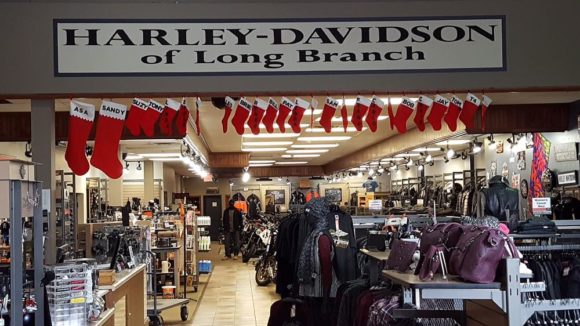 Renee manager of Long Branch Harley Davidson presents 115 filled backpacks collected by Shoreline and Ocean County Harley Davidson riders to Deacon Ray for the 2016 annual winter homeless veterans outreach campaign. Thank you Ocean and Monmouth county riders – you're the best!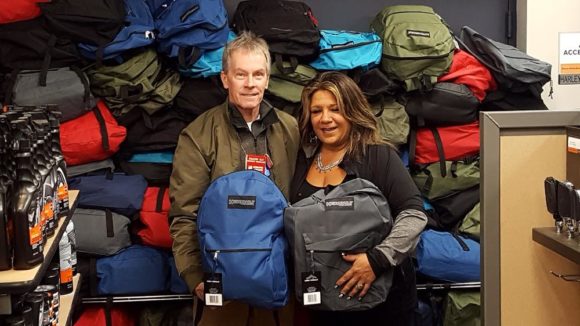 CHILLOUT Rapid Response Team Coordinator Al Compoly was recognized by the Middle Smithfield Township, East Stroudsburg, PA annual "person of the year" awards event. Congratulation to Al and all his good work.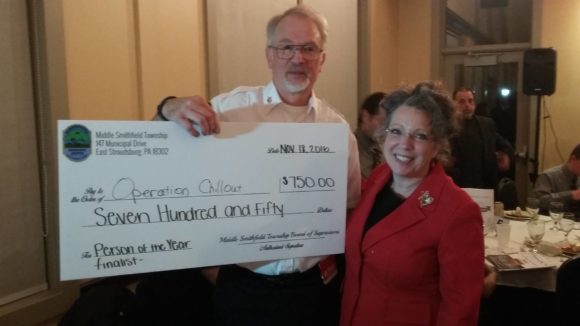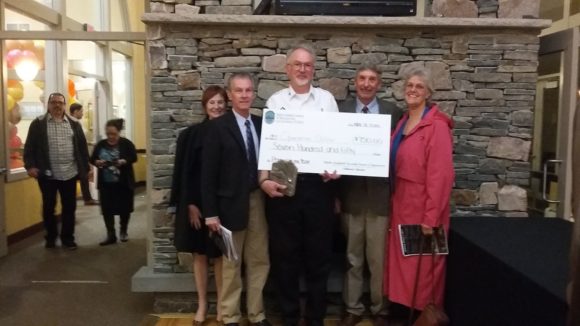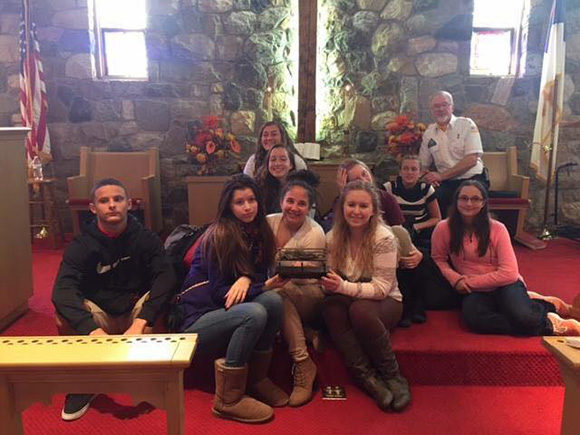 Members of the Social Justice Youth Ministry of the First Methodist Church of Reeders, PA filled 32 backpacks for OPERATION CHILLOUT annual winter homeless outreach campaign.
BASF Veterans Employee Team launches annual backpack drive for homeless veterans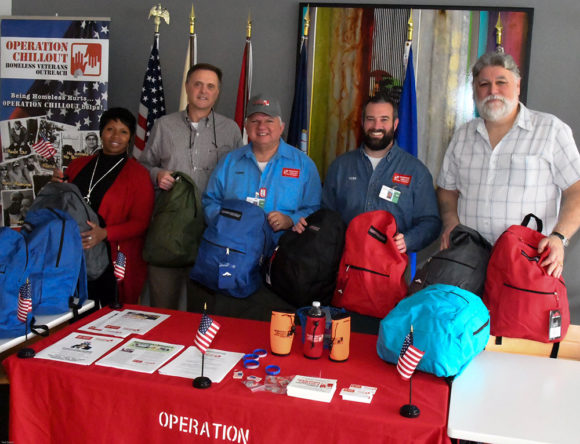 Leaders of the BASF-VET with OPERATION CHILLOUT at launch of their annual collection drive.
CLINTON ROTARY CLUB SUPPORTS WINTER HOMELESS OUTREACH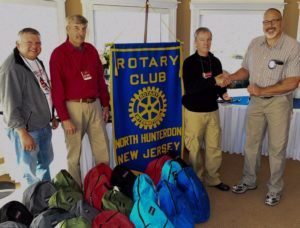 Tony, Ken, Ray and President Jim Murray at annual Clinton Rotary Club backpack drive meeting.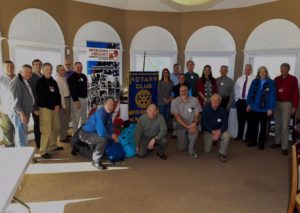 Club members prep a full case of backpacks for homeless veterans 2016-2017 winter outreach.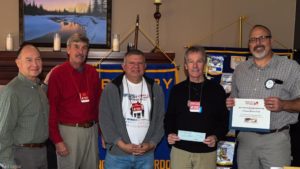 Lou Granados, Ken Steffan, Maj DeStefano, Ray Chimileski and President Jim Murray.
The Original Pocono Pub in Bartonsville, PA awards a generous donation to OPERATION CHILLOUT in support of Pennsylvania regional homeless veterans.

North Hunterdon Newcomers and Friends Club of Flemington present generous donation supporting outreach to homeless NJ veterans
CONGRATULATIONS AND WELCOME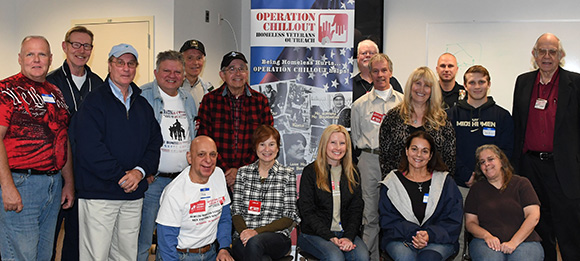 New outreach volunteer orientation workshop graduates at Long Valley Police Squad Room, Saturday, October 1.
THANK YOU!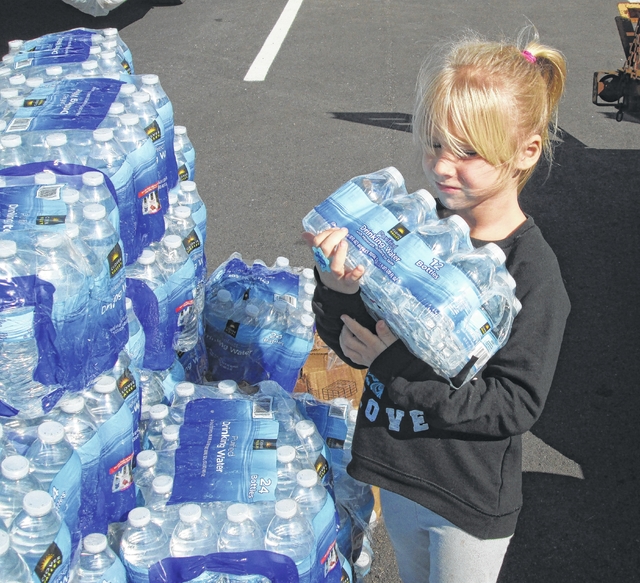 As result of the generosity of our many individual and community partners, this summer we collected and delivered more than 27,000 bottles of life-saving water and hundreds of new tee shirts and caps for our homeless brothers and sisters throughout NJ and northeast PA. Our final summer outreach was conducted over the Labor Day weekend and the 2016-2017 winter homeless outreach campaign begins in November, watch for announcements to come.
Thanks to Tramontin Harley Davidson dealership for their second summer collection of bottled water. This haul brought in 97 life saving cases.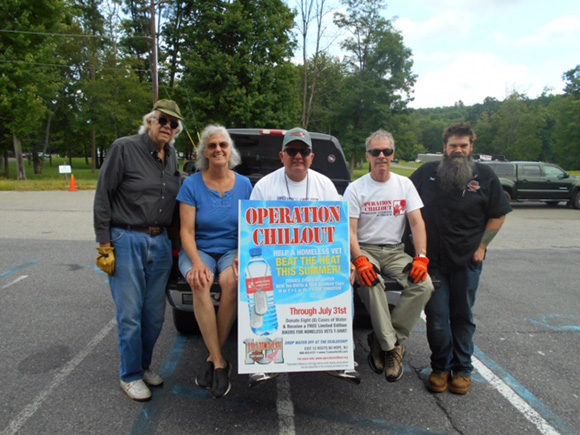 L to R
Col. Ted, Chris, Maj. Tony, Deacon Ray, and Paul, service manager
Kevin Murphy, founder of Veterans Chamber of Commerce-NJ with Tony and Ray. Thanks to Kevin and his many generous friends collecting cases of water, summer new clothes and toiletries. Also a big thanks to the students, teachers snd parents of Lincoln Elementary School, Roselle Park for their generous donation to support homeless veterans this summer.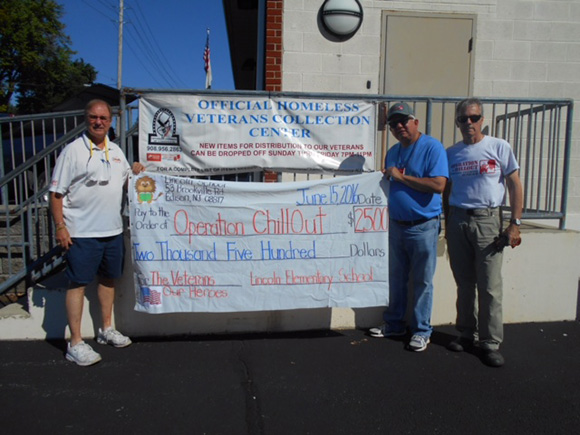 At the Howell encampment, OCO summer outreach team delivered cases of refreshing water, new summer clothing and toiletries.
The Original Pocono Pub, Bartonsville, Pa. annual salute to OPERATION CHILLOUT homeless veterans outreach. Great bands, barbecue, prizes, raffles, fun for all. All proceeds support OCO Pa. Outpost outreach programs.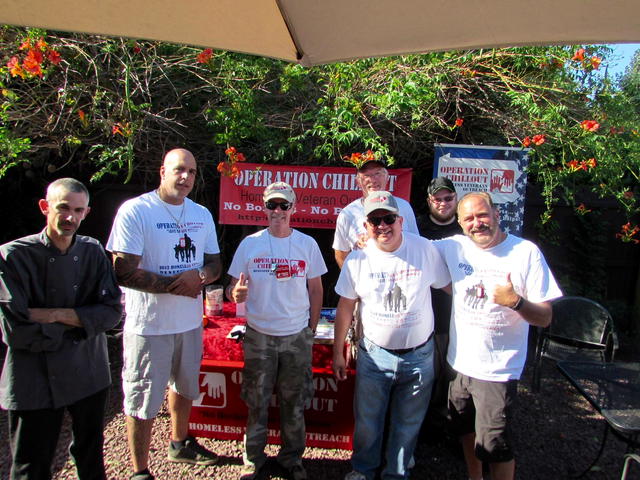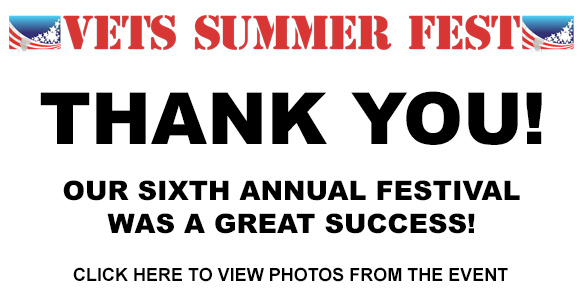 St Virgil's Church, Morris Plains yields generous summer outreach water drive
L to R
Jim, Fr Lance and Jane from parish, Ray, John, Tony and Tom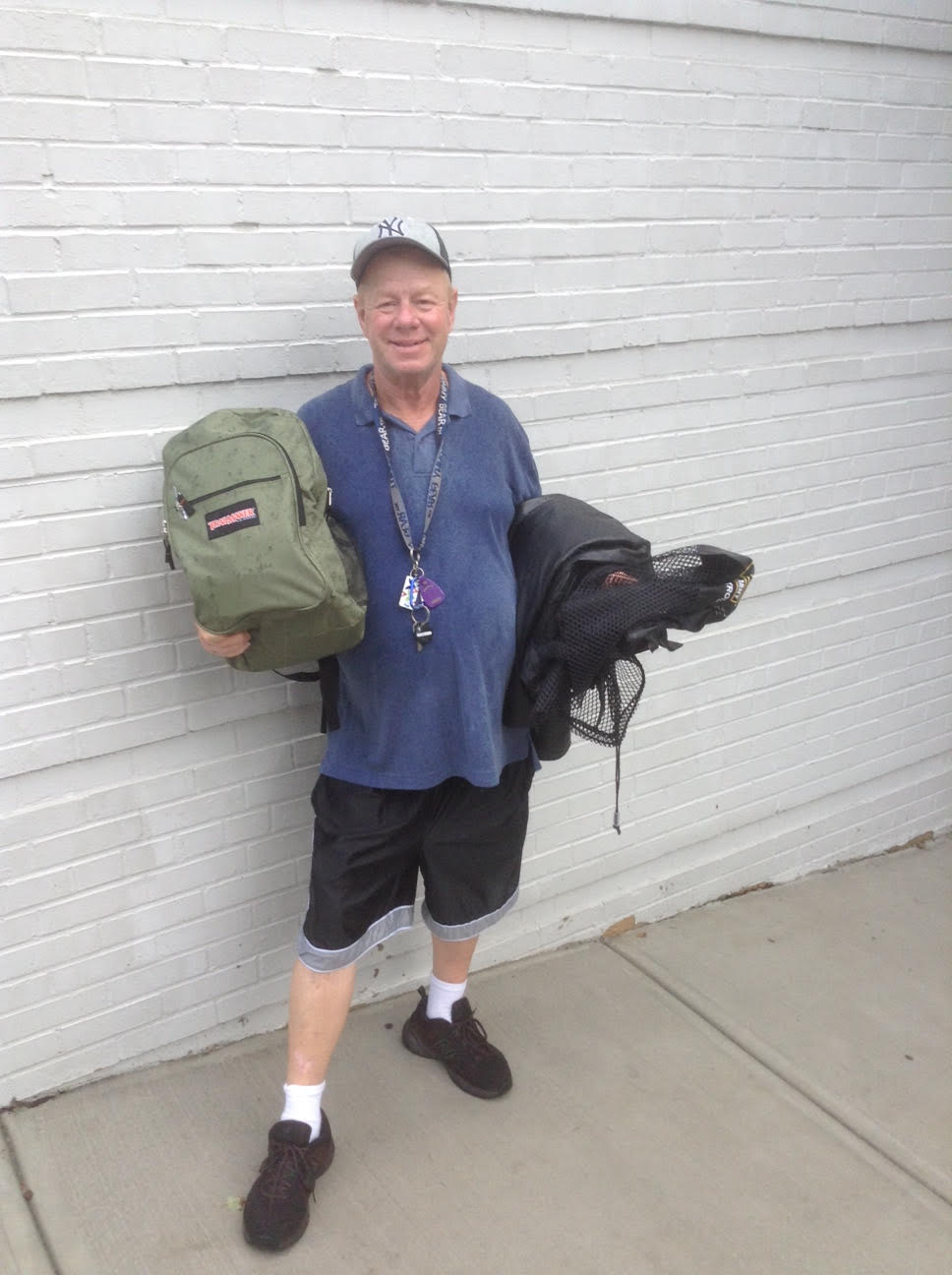 When we met Jack at the Free Bridge in Phillipsburg last week, he told us about losing all his clothing and belongings. OPERATION CHILLOUT was able to start him off with the basics and will meet his fall and winter wardrobe needs as the summer ends and the cooler weather moves in.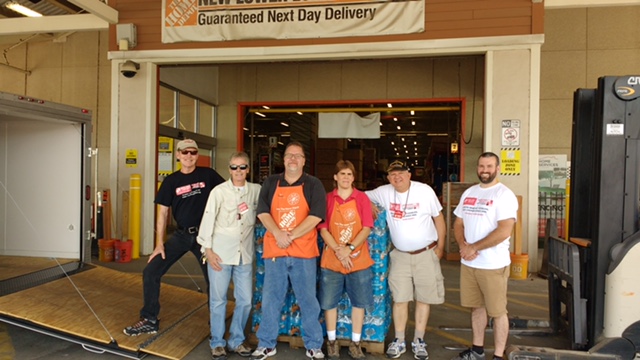 Flemington Home Depot donate an entire pallet of cases of water for the 2016 summer homeless outreach campaign. Many thanks for their generosity!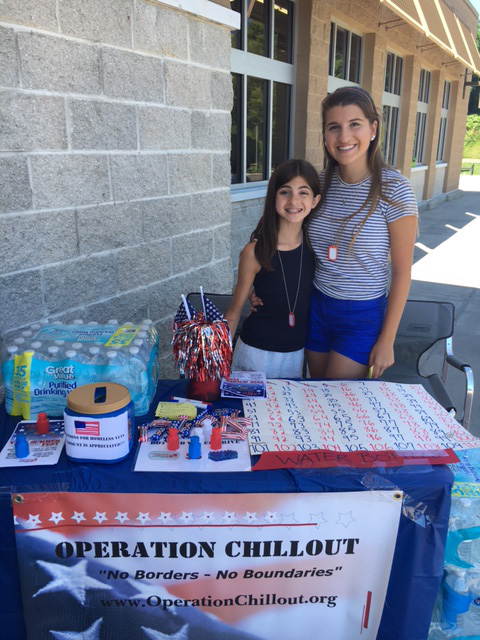 Young OPERATION CHILLOUT volunteers Leah and Lauren receive generous responses to their request for cases of water outside local supermarkets for the annual summer homeless outreach campaign.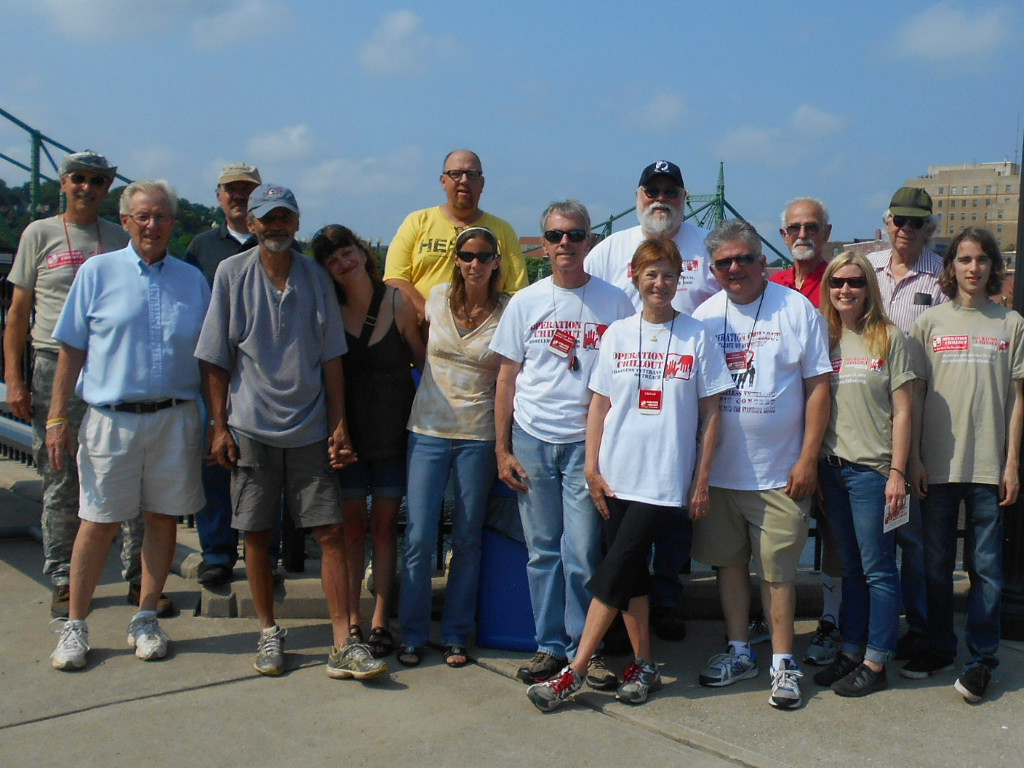 Summer Homeless outreach Team with local community members at the Free Bridge overlooking the Delaware River across from Easton, PA.
OCO team Ted and Stephen at Free Bridge outreach.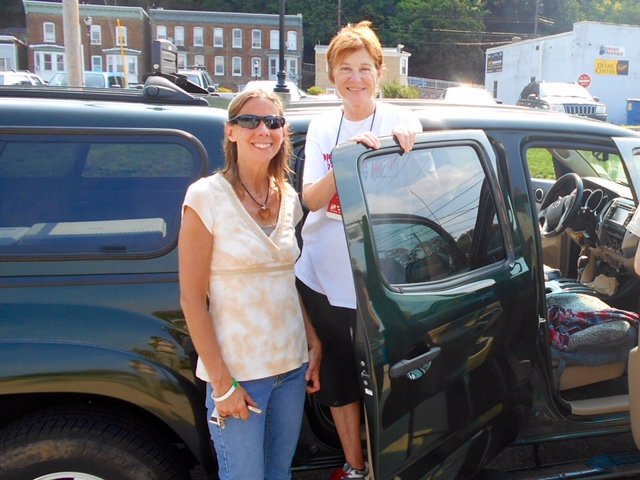 Ministry member Donna and OCO member Leslie at Free Bridge outreach.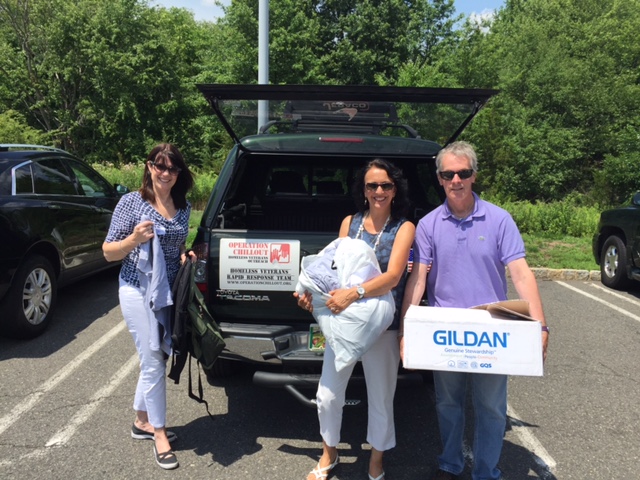 Patty Laguna and Carmella Resnick of the leadership team of Fanwood-Scotch Plains Rotary Club delivers summer homeless outreach tee shirts, caps and a generous donation from their membership to Ray Chimileski.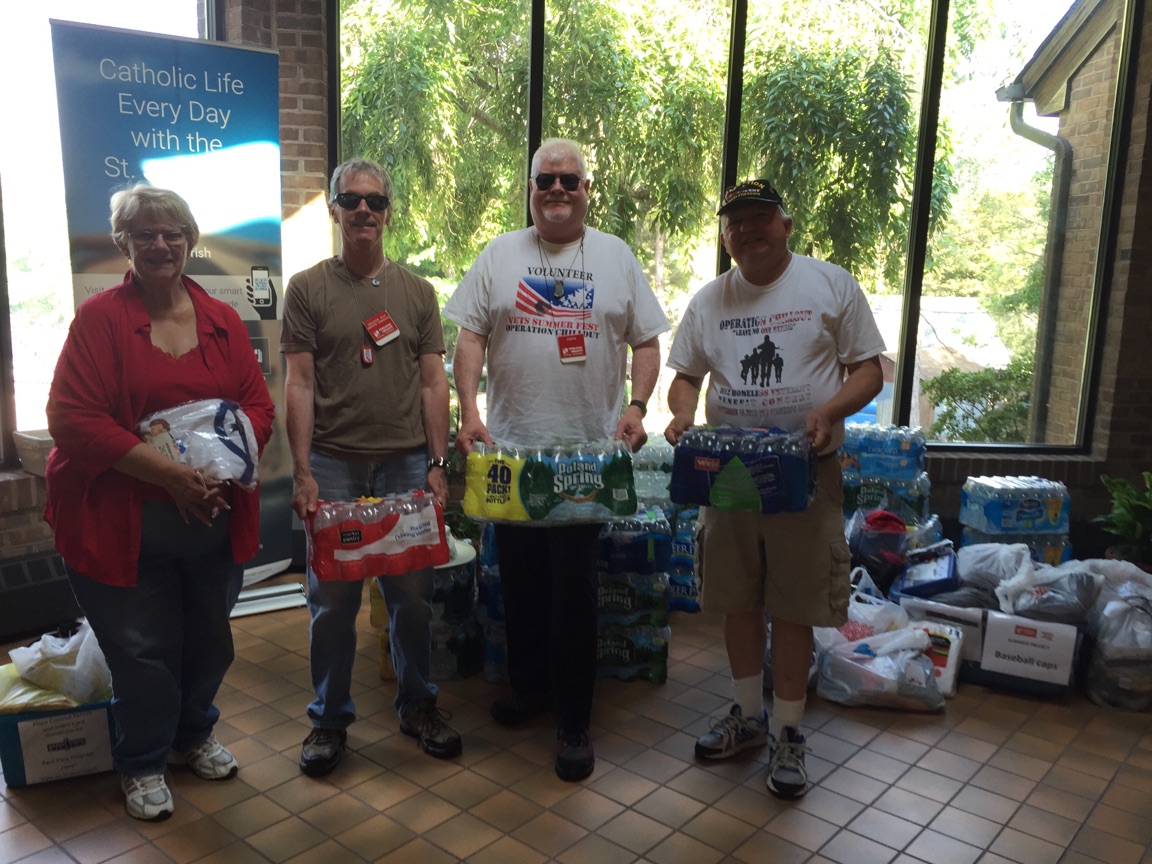 Mel Kaufhold, Dcn. Ray, John Hennessey, Maj. Tony DeStefano receives very generous collection of cases of water, summer clothing and donations from long time faithful partners from St Jude Church, Budd Lake.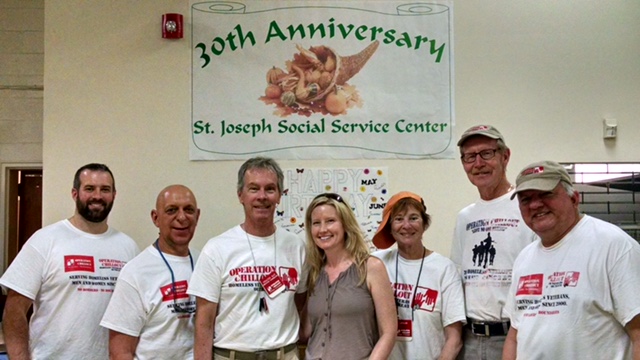 Summer Homeless Outreach Team delivers cases of life saving water and supplies to St. Josephs Social Service Center and the Elizabeth Coalition for Sheltering the Homeless.
L to R
Sgt. Tom Wicklow, Gene Daquila, Dcn. Ray Chimileski, Kris Hoffman, Leslie Chimileski, Jim Moore, Maj. Tony Destefano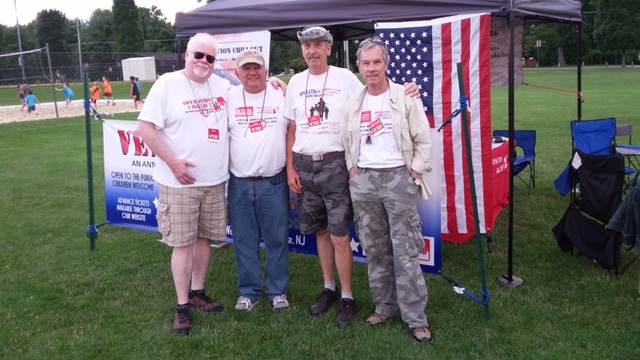 Washington Township Long Valley annual night out
L to R
John Hennessey, Maj Tony DeStefano, Ken Steffan, Dcn. Ray Chimileski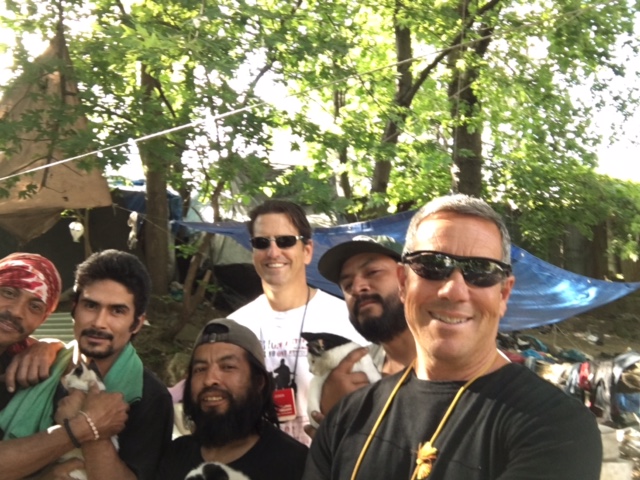 Summer outreach in Paterson with Joe Iozzia and John Kennedy with riverside encampment residents.

Summer homeless outreach team delivers life saving water to SHIP – Samaritan Hospitality Interim Program in Somerville.
The Newcomer's Friends Club of Central Hunterdon County hosted an Applebee's Flapjack Fundraiser breakfast Saturday, April 23, to support Operation Chillout homeless veteran outreach. Area volunteers, supporters, veterans and seniors enjoyed a delicious breakfast for a great cause!
Serving HOMELESS VETERANS has been the mission of Operation Chillout since December 21, 2000.
The Jewish War Veterans of New Jersey recognized Operation Chillout's all-volunteer outreach to homeless veterans at their 35th annual Legislative Breakfast in Toms River on Sunday. Department Commander Larry Rosenthal named OCO their "2015-2016 Organization of the Year".
Click each photo for larger view.
OCO Executive Director Ray Chimileski gave the keynote address recapping the history of the all-volunteer outreach and detailing the relief they provide to the thousands of homeless veterans 'regardless of their circumstances, no borders- no boundaries'. Chimileski noted the need for continued direct compassionate action for all homeless people in NJ and remarked on the similarities between the mission statements of the two organizations. The JWV mission vows to maintain true allegiance to the United States of America; to foster and perpetuate true Americanism; to combat whatever tends to impair the efficiency and permanency of our free institutions; to uphold the fair name of the Jew and fight his or her battles wherever unjustly assailed; to encourage the doctrine of universal liberty, equal rights, and full justice to all men and women; to combat the powers of bigotry and darkness wherever originating and whatever their target.
Both groups promised to mutually support their work focusing on all veterans in need throughout NJ.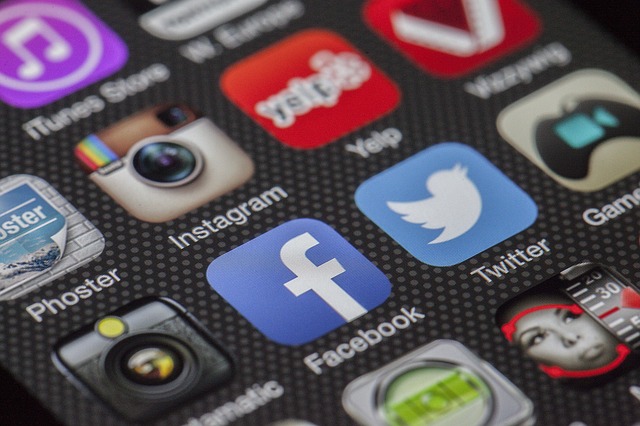 Creative, talented, mission-driven person wanted to design, coordinate and manage OPERATION CHILLOUT's social media platform. Please contact ray@operationchillout.org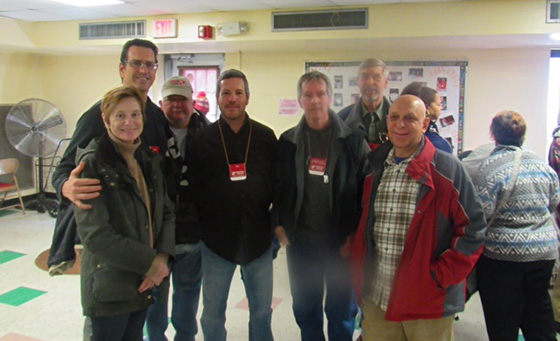 Delivery team in Hackensack at monthly hot lunch at Mt Olive Baptist Church.L to R
Leslie, John, Major D, Joe, Deacon Ray, Ken, Gene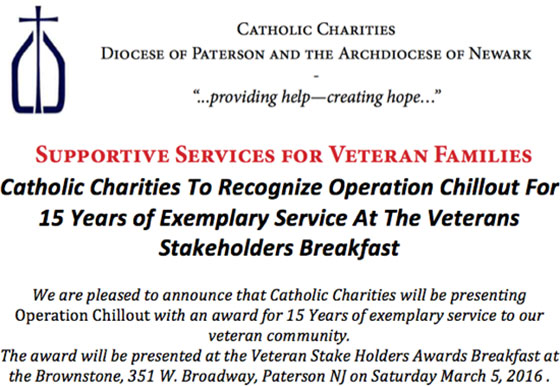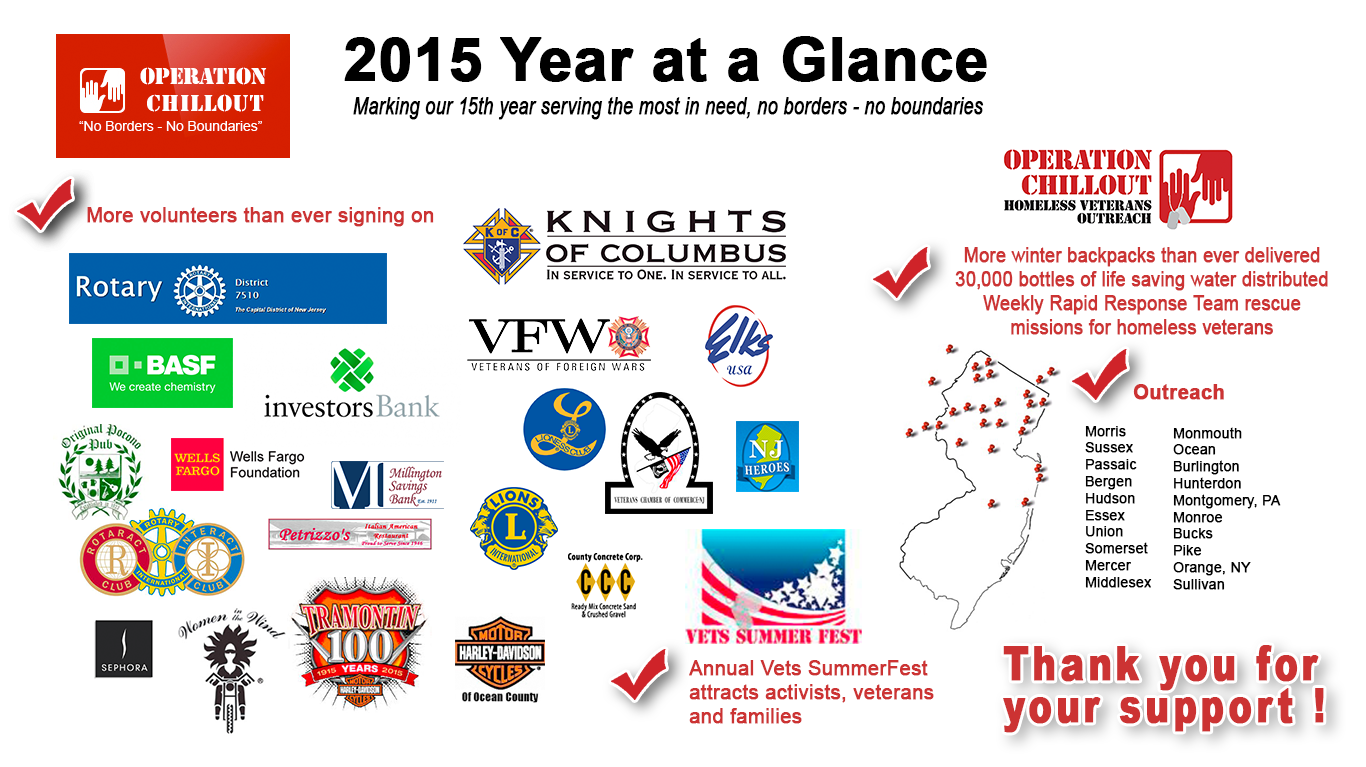 Click Here to View Larger Image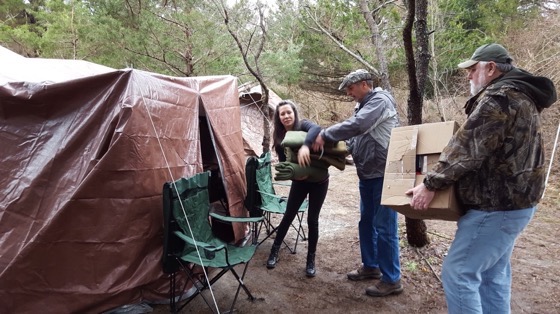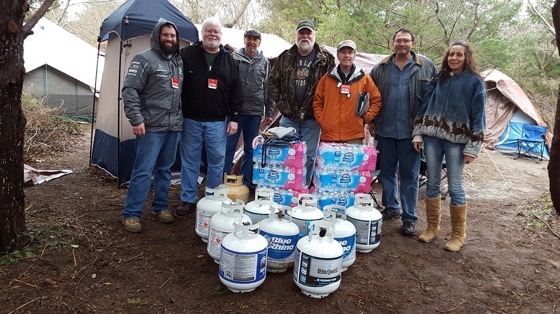 Team outreach at Tent City in Howell, just before the rains came.
L-R Tom Wicklow, John Hennessey, Ken Steffan, Stephen Serna, Ray Chimileski, Rev. Steve Brigham, Janice camp resident
Outreach team brings warm survival gear to Penn Station Newark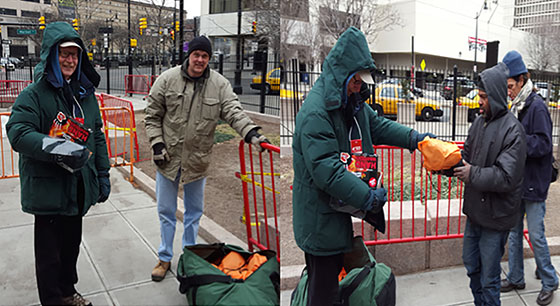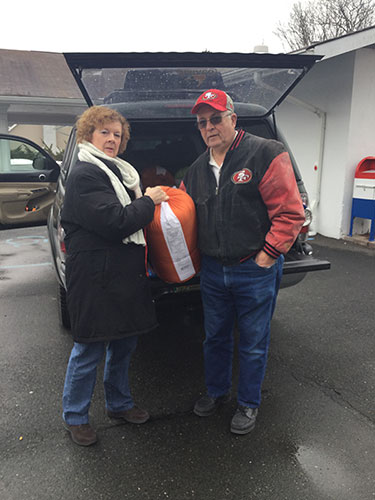 Pat and Jim Border of Mt Arlington Elks club donates warm sleeping bags and winter supplies for 2016 outreach campaign.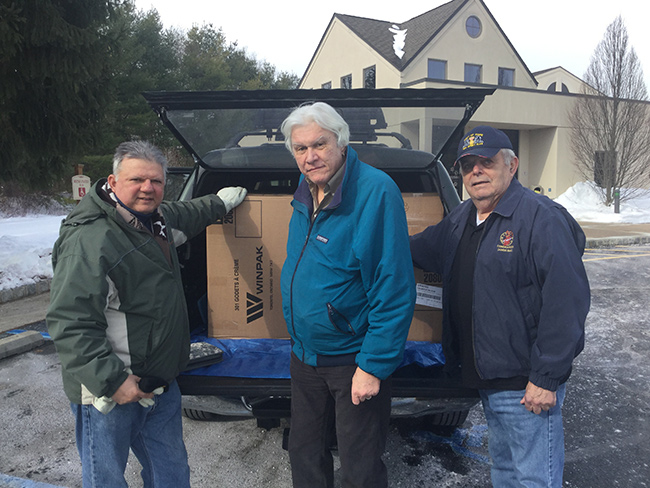 MAJ Tony Destefano receives generous gift of new warm clothing for winter outreach from NJ Elks Army of Hope veterans team.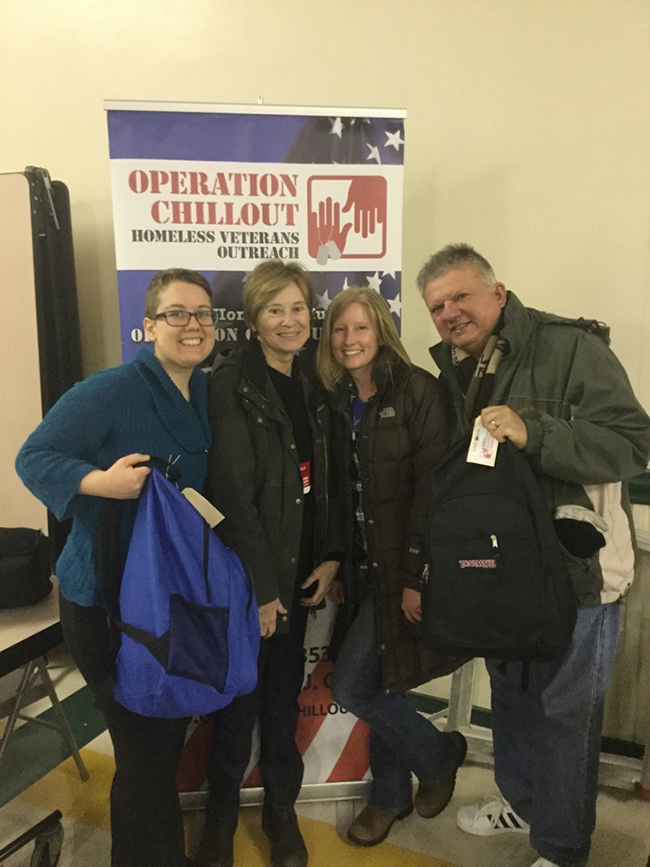 Chillout Team distributes new warm clothing at Warren County Homeless Connect in Phillipsburg.
Gina Blechman outreach worker at Community Hope with Leslie Chimileski, Chris Hoffman and MAJ Tony DeStefano
CHILLOUT winter delivery team receives truckload of filed backpack from St Jude Parish, Budd Lake.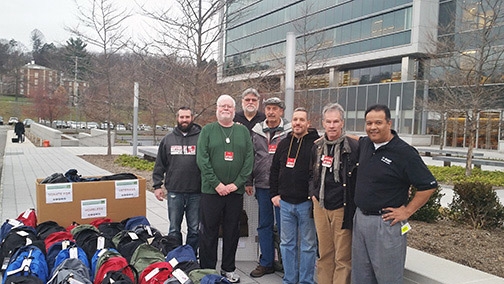 BASF Veterans Employee Team presents supplies and backpacks for 2015 winter homeless veterans outreach.
L to R
Tom Wicklow, OCO Logistics; John Hennessey, OCO Location Coordinator; Stephen Serna, BASF; Ken Steffan, OCO Logistics; Joe Iozzia, OCO Treasurer; Ray Chimileski, OCO Executive Director; Pablo Lizarazo, BASF VET Employee Team Coordinator.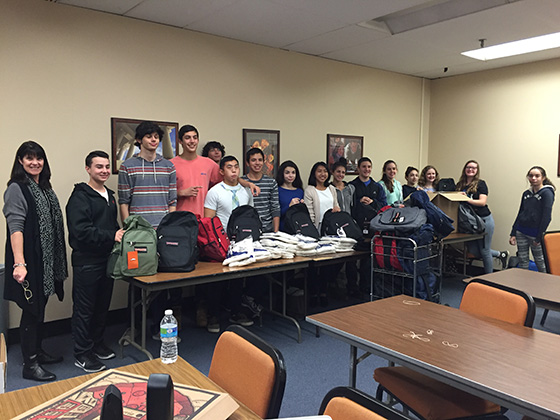 Plainfield Fanwood Rotaract members filling backpacks for annual 2015-16 winter outreach.

Carmela Resnick, President of the Plainfield Fanwood Rotary Club presents Ray with truck load of finished backpacks for winter outreach.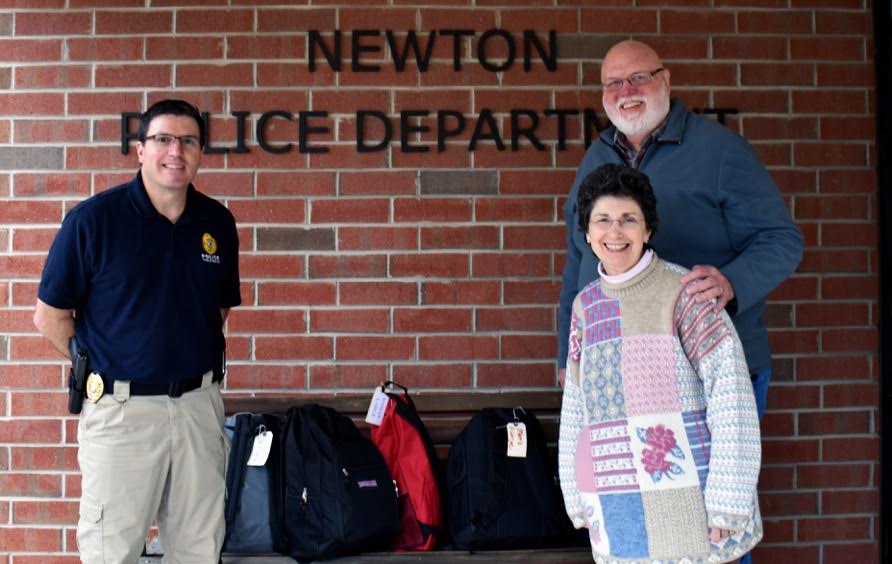 Sussex County Winter Homeless Outreach
Newton Police Chief Michael S. Richards accepts winter emergency supply backpacks from Al and Judy Gruswitz, OPERATION CHILLOUT Sussex County Location Coordinators.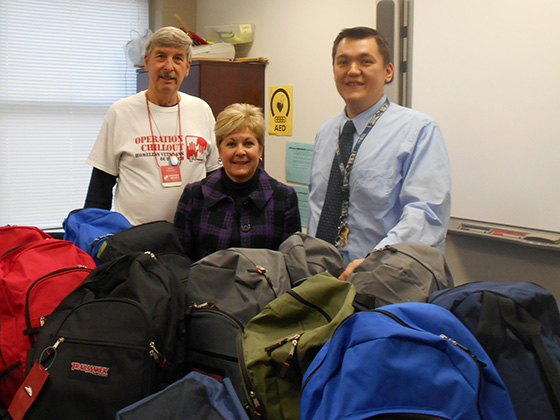 Many thanks to the students, families and staff at PORT COLDEN SCHOOL, Washington, for preparing backpacks for the annual winter outreach drive.
PICTURED from L to R:
Ken Steffan, OCO Logistics Coordinator; Reading Teacher, Michelle Cooper; and School Principal Michael Neu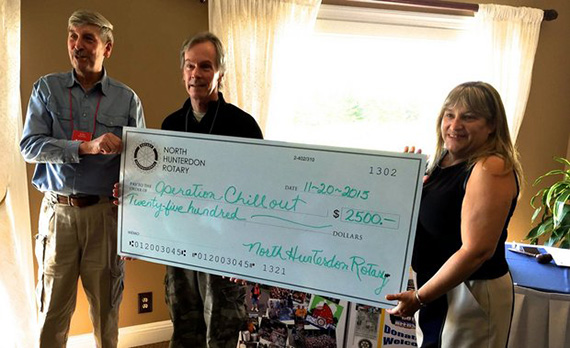 North Hunterdon Rotary Club supports 'Operation Chillout'
The North Hunterdon Rotary Club continues to provide support for homeless veterans through 'Operation Chillout.' Pictured, North Hunterdon Rotary Club President Carolyn Sepkowski presents a generous donation to Ray Chimileski (center) and Ken Stefan from 'Operation Chillout.' (courtesy photo)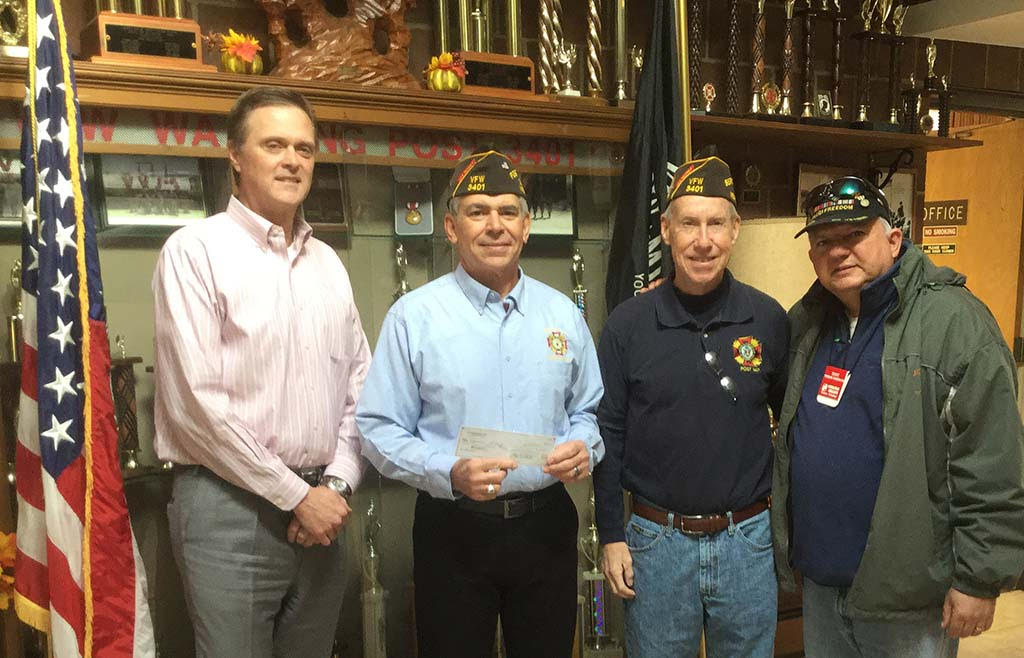 VFW POST 3401 Morris Plains Supports 2015-2016 Winter Homeless Veterans Outreach campaign
Post 3401 makes generous donation to OCO winter outreach campaign pictured L to R:
OPERATION CHILLOUT Rapid Response Team member Jim Blair, Post 3401 Commander Jim Auriemma, Veterans Service Officer Ken Ruth, and OCO's MAJ Tony DeStefano.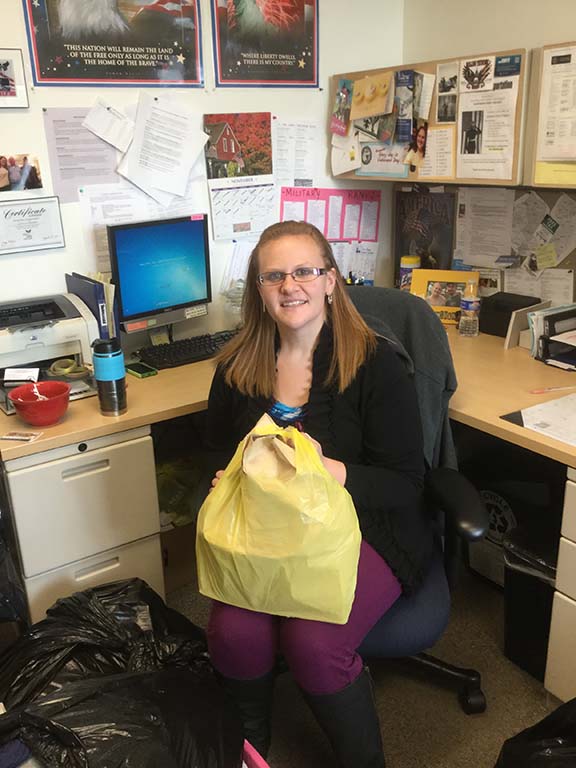 Hunterdon County Veterans Service Coordinator Sabrina Baarda presents supplies for the OCO 2015-2016 Winter Homeless Outreach campaign.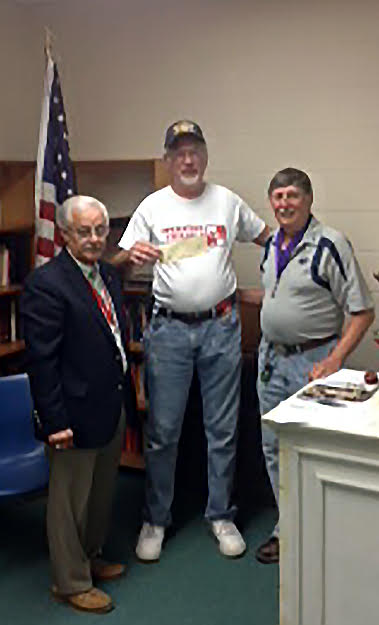 Pennsylvania Homeless Outreach Boost by K of C
PA Veterans Outreach Coordinator Al Compoly (center) receives generous donation from (Left) Gene Halterman, Grand Knight for District 35 and Fr. John T. Butler, from Knights of Columbus Council 4084 of East Stroudsburg, Pennsylvania.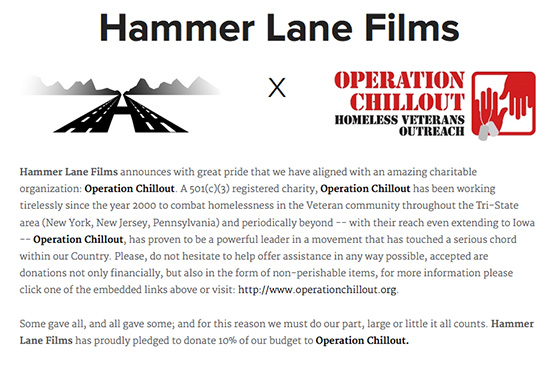 OCO Team loads 97 cases of life saving water for delivery to homeless veterans throughout NJ, collected by Tramontin Harley Davidson, Hope, NJ, from generous riders during their annual Wet the Vet water drive.
CHILLOUT Summer Outreach Team presents St. Jude Parish, Budd Lake, with a Guardian Angel Award certificate for outstanding support of homeless NJ veterans.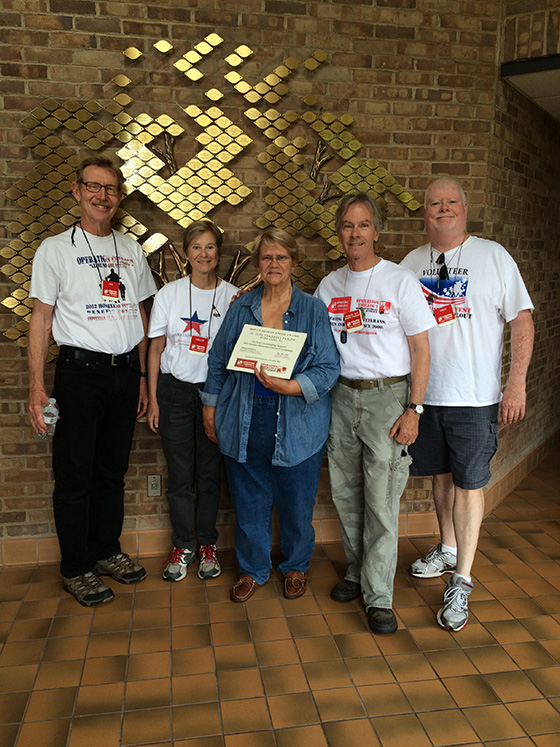 L to R: Jim Moore, Leslie Chimileski, Mel Kaufhold, Ray Chimileski, John Hennessey
Outreach team Jim Moore, John Hennessey, MAJ Tony DeStefano and Ray Chimileski with Sr. Jacinta Fernandes and teen volunteers from parishes in the Newark Archdiocese. OPERATION CHILLOUT summer outreach delivered 70 cases of water and dozens of sets of new tee shirts. caps, socks and toiletry items to the Elizabeth Coalition for the Homeless.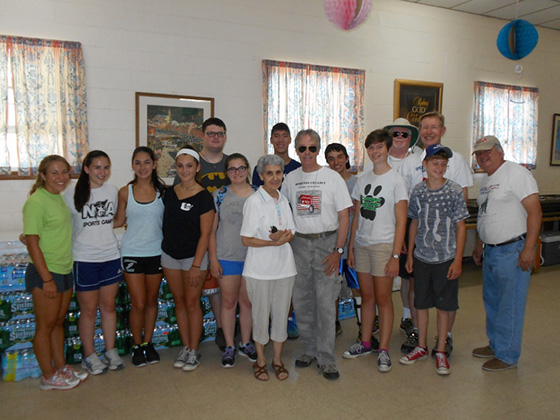 Many Thanks to Pioneer Trails Day Camp – West Essex YMCA
Day Campers collected 30 cases of water and many caps and tees for the 2015 summer homeless veteran outreach campaign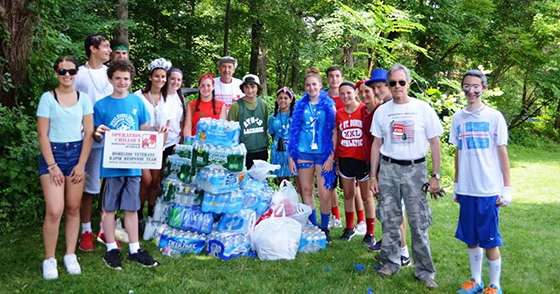 www.sussex.edu/rockinfest
The BASF Corporation under the leadership of their Veterans Employee Team (VETs) took the lead to collect 75+ filled backpacks for the 2014 – 2015 annual winter homeless outreach campaign. The pictures from today have been posted to the Operation Chillout Facebook page:
https://www.facebook.com/pages/OPERATION-CHILLOUT/214961841904893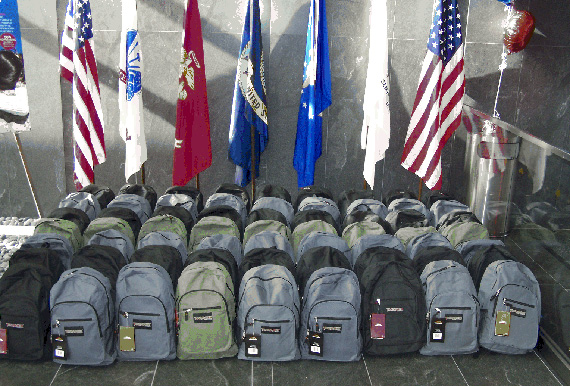 BASF Employee Veterans Group Partners for Winter Homeless Veterans Outreach
The BASF Corporation in Florham Park, NJ is committed to ending homelessness among our military veterans. To support this goal they are in the process of collecting supplies to fill 100 backpacks for the 2014-2015 Winter Homeless Outreach Campaign. The Employee Veterans Employee Team (VET) supports our military veterans in many ways. The group is under the leadership of Pablo Lizarazo (VETs Group Leader), Lenora Kline (VETs Logistics Officer) and Stephen Serna (VET's Scribe). Pablo said, "this is a priority project for us and our team is fully energized to make it a success."
UNITED METHODIST CHURCH Reeders, PA Launches Homeless Veterans Campaign


For the second year since OPERATION CHILLOUT opened an Outpost in PA, the Youth Ministry Team of the Reeders Methodist Church collected supplies for cases of backpacks for the 2014-2015 winter homeless outreach campaign. Many thanks to theses caring and dedicated young adults.
http://www.reederschurch.org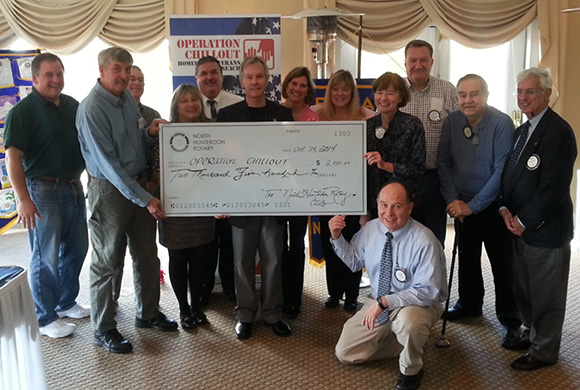 North Hunterdon Rotary Club 5652, District 7510 supports 2014-2015 Winter Homeless Outreach Backpack Campaign
The North Hunterdon Rotary executive board and officers generously presents a check to Ken Stefan and Ray Chimileski – OPERATION CHILLOUT from the annual Rotary charity triathlon event held at Spruce Run Reservation earlier this fall. The group also prepared and packed a case of 25 backpacks with new clothing and supplies for the upcoming homeless veterans outreach and deliveries.